Getting a fresh perspective on Brecht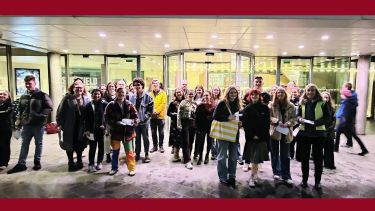 Brecht's The Good Person of Szechwan is a German theatre classic with a lot of social criticism and some difficult moral questions – as well as being a major text on our "Understanding German History and Culture" module – so can it also be a fun night out?
Our first year students now answer that with a resounding yes, after we went to see it in an energetic and thought-provoking production by Anthony Lau at the Crucible. With a bold new soundtrack and a lot of humour, this new version is full of playful fairground effects: characters enter via giant slides and the gods emerge from a ball pool.
Not only was it a real pleasure seeing Anthony Lau's interpretation of Brecht's classic come to life on stage, it was a fantastic experience to have the opportunity to speak with the director himself. His creative license and views provided me with a fresh insight into the powerful meanings and history that can be found within the text.

Hollie Robson Turner

BA Modern Languages and Cultures
Nonetheless it hits hard with its messages about global capitalism and ecological damage and makes Brecht's concerns chime with a new audience. As we had read the original play (in German and English) we had a lot of questions for director, Anthony Lau, when he kindly agreed to meet us a few days later, despite being busy preparing to transfer the production to London.
Anthony Lau gave us fascinating insights into his work with writer Nina Segal and set designer Georgia Lowe, about his determination to cast East Asian heritage actors for the inhabitants of Brecht's fictional Chinese city and how the brilliant actors help to shape the production as it evolves in rehearsal and performance. Getting to grips with Brecht has never been so enjoyable!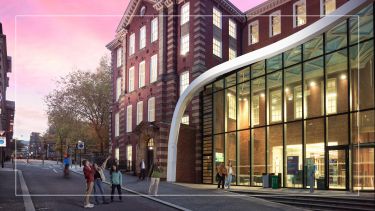 Visit us
Discover what sets Sheffield apart at our undergraduate open days on the Saturday 21 October or Saturday 18 November.