Our German language classes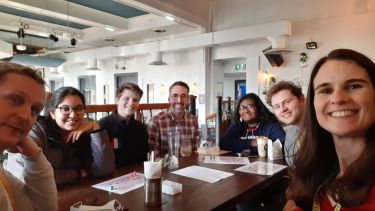 "At Sheffield we want to make language learning effective and fun for all our students no matter what level of German they are at. For example, everybody is invited to join us for our German Coffee Breaks, a great way to practise your spoken German in a relaxed setting. For advanced students we offer our Presenting and Debating module in which you develop your public speaking in German. Whatever we do, we believe that play, acting, and imitation is crucial to language learning. Here is a taste of our activities. 
German Coffee Break
Our German Kaffee sessions were such a success this autumn semester! We loved to see so many students come and join us for our weekly meetups in which we discussed anything under the sun from cute puppies to favourite bands. While this is the perfect time to practise German, it is also a great opportunity to find new friends. Many friendships have formed over the years, also with international students from Germany and Austria.
Follow us on instagram for upcoming dates!
Homo ludens
In our language classes we regularly incorporate languages games because we know that play is a crucial aid in the learning process. Games lower the stakes and allow us to rise above inhibitions that may hold us back from speaking German. Language games encourage the creative and spontaneous use of language, and, perhaps most importantly, it is incredibly good fun!
Analyse and imitate
In our specialist Presenting and Debating course, we focus on public speaking in German. We work on the principle: watch, analyse, and practise. This semester we worked mainly on speech analysis: we watched German and Austrian speakers and looked at how they 'do it'. This is a great way to unpick the language of our speakers but also to unpick their performance: how they use their voice and their body? What do they do with their hands? How do they use the space? How do they deal with their notes?
Again, we focus on the play element because the next step is doing it ourselves. We found that some tricks really work well, while others seem less helpful. 
Our favourite tips are:
Hold your hands at about belly button height.
Try to have your feet about hip wide.
Do not cross over your legs.
If you do not know what to do with your hands, hold a pen.
Use a thick paper / index card for your notes.
What did not really work for us:
Using a single sheet of paper (too flimsy).
Writing down full sentences instead of bullet points (this will keep you reading everything off).
Being too spontaneous. Preparation is essential, especially in a foreign language.
For now, keep playing with your language and keep an eye out for more from us next semester!"
Franziska Auer
Explore the University
Discover what sets Sheffield apart at our next on-campus open day.