An unusual way to practise German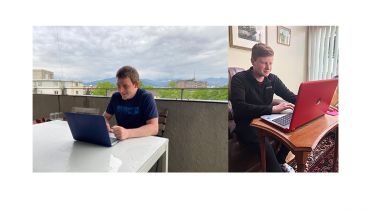 Otto Weaver (German & Politics) and Rowan O'Donnell (German & Economics) have discovered the Volkshochschule webinar as a way to connect with wider German-speaking communities. It is a creative way to have new encounters in German with diverse groups discussing topical themes.
Earlier this year Rowan had returned from Hamburg to Hull and Otto had been at home in London during lockdown. He has now moved back to Freiburg for the end of the semester. They share their story.
"Recently we took part in a "Café International Webinar" for a Volkshochschule (adult continuing education college) in Sindelfingen, near Stuttgart. Our theme was how different countries have been reacting to COVID-19. The week before the participants had interviewed people in Italy, and now it was the UK's turn, with one student from Birmingham and us two from the University of Sheffield. Most of the 25 participants were in their 70s or 80s, with a few younger people too. We clearly had a very keen crowd for this Q&A session, as most people tuned in early and the questions were soon flooding in:
Have there been examples of community solidarity like people singing and playing music on balconies in Italy?
Are schools reopening at all?
Can you go on a summer holiday?
What do you think about the UK government's approach compared to what is happening in Germany?
The general consensus was of a relatively peaceful lockdown, in which a lot of time was spent with family. We mentioned Clap for Carers and the socially-distanced celebrations of VE Day. Although streets had quietened down, there was still traffic and plenty of people on foot.
The webinar was also really advantageous for our German, as we discussed  pressing and sensitive topics and had to react spontaneously to a big variety of questions.

Rowan O'Donnell and Otto Weaver
The German speakers attending the webinar saw similarities between this and how people were reacting in Germany. These similarites began to wane when discussing political aspects of the Coronavirus pandemic, as the three of us expressed degrees of pessimism towards the government's abilty to keep people safe, and felt that clarity was certainly lacking.
There were positives and negatives in Germany, too, but the conversation showed that some Germans felt concern about how Britain was coping with the crisis. We were even asked if the scrutiny Britain had been placed under by German media was a fair assesment! It was valuable to hear how British politics and decision-making is being reported in Germany, but worrying how negative this can be at times. 
The experience was good fun and it was especially nice to chat in German to an older generation who are often very interested in the latest developments worldwide but don't have the tech know-how to be able to follow on twitter or with mobile news-apps. They clearly found the experience valuable enough that a few of us stayed on the call later to answer even more questions they had.
After this experience, we can recommend the VHS webinars to any German-speaking person, whether as an interviewee or as a participant."
A world-class university – a unique student experience
Sheffield is a research university with a global reputation for excellence. We're a member of the Russell Group: one of the 24 leading UK universities for research and teaching.