Dr Malcolm Butler
Global Engagement
Director and Vice-President of Global Engagement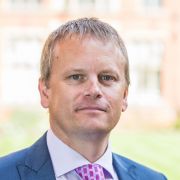 Profile

Dr Malcolm Butler is the Vice-President of Global Engagement at the University of Sheffield. He leads the University's international activity and is the Director of the Department of Global Engagement – a team of 33 staff including an office in Malaysia. He drives the University's Internationalisation Strategy which aims to grow international student numbers and strategic international partnerships.

The Department of Global Engagement leads on the University's international student recruitment from 150 countries, as well as supporting partnerships with more than 400 prestigious universities across the world.

The Department also delivers student exchange programmes and summer schools and staff mobility schemes. Having graduated with a physics degree from the University of Warwick, Dr Butler completed his PhD in the Department of Engineering Materials at the University of Sheffield. He then spent 11 years working across the UK and Europe in various research and development roles for British Steel/Corus (now Tata Steel).

During this time, he completed an MSc in Ferrous Metallurgy from the University of Leeds and an MBA from the University of Warwick. He returned to The University of Sheffield in 2003 where he joined the Polymer Centre as a manager, specialising in knowledge and technology transfer activities. In 2008, he became Faculty Director of Operations for the Faculty of Engineering during which time the faculty doubled student numbers to 5,400 and completed the £86 million 'Diamond' building – a world class teaching facility. He began his current role in the Department of Global Engagement in April 2017.