IGSD Officially Launches New Name and Mission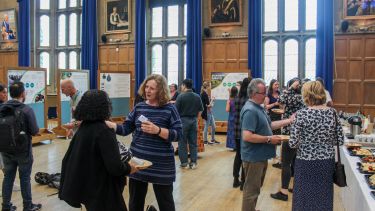 Institute for Global Sustainable Development (IGSD) is the new name for SIID, and it was launched at a Summer Event and Networking Fair on 20 June to members of the university community and beyond. The new website is live, and the new logo has been unveiled. Our strapline "Collaborate-Critique-Transform" summarizes the different approaches our researchers are taking when engaging with the Global Sustainable Development agenda.
The panel featured researchers from our five different faculties sharing what being a member of IGSD means to them – opportunities to meet and develop interdisciplinary research in Global Sustainable Development, links to partners across the globe, collaborating for impact, mentoring, exchanging with other like-minded IGSD fellows on methodologies and how to decolonize our research practices, a creative community committed to making a difference. IGSD co-directors Prof Dorothea Kleine and Prof Dan Brockington introduced the overarching mission: "IGSD at the University of Sheffield is an international centre of excellence, uniting researchers from different disciplines to address global challenges in collaboration with partners and communities worldwide".
The Networking Fair featured stands for each of IGSD's main research themes: Cities; Health; Environment and Natural Resources; and Digital Data and Innovation, as well as on the IGSD staff Training Offer in Global Sustainable Development, the Water Centre, and our mentoring work. Partners were represented through a stand as well, which also included a video collage of partners from around the globe sharing what they like about working with researchers at IGSD. The day concluded with a celebratory drinks reception.
Congratulations IGSD!
Flagship institutes
The University's four flagship institutes bring together our key strengths to tackle global issues, turning interdisciplinary and translational research into real-world solutions.