We work through equitable partnerships with diverse actors from policy, practice, civil society, business and universities. The map below shows our partnerships across the globe.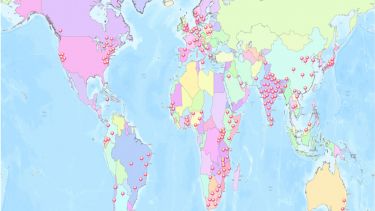 Off
Working together with our partners is central to our work. We partner with NGOs, policy-makers, international organisations, business, practitioners, community groups and colleagues from other universities, collaborating at different scales, from international policy to organisational learning and local project initiatives.  
We engage in multi-stakeholder and intercultural partnerships in a spirit of mutual learning, equitable practices and with an emphasis on investing in long-term commitments with sustained impact.  
Recent partners of our IGSD researchers have included: Unicef, UNCTAD, DFID, GIZ, IDRC, Oxfam, Malala Fund, Red Cross, and many small NGOs.
We also work closely with other teams at the University of Sheffield. Together, we are creating innovative responses to sustainability challenges.
Our partners within the University of Sheffield
The Sheffield Political Economy Research Institute
Sheffield Institute for Sustainable Food
Grantham Centre for Sustainable Futures
Centre for the Study of Childhood and Youth