Studying any of the courses offered by the Department of History will prepare you for a diverse range of rewarding and profitable careers across most sectors of the economy.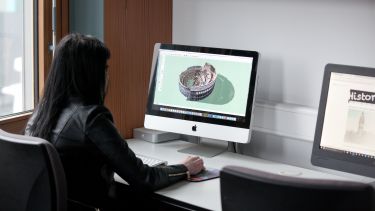 ---
Our graduates have gone on to excel in everything from academia to accounting and marketing to medicine. So, however you choose to use your degree, the combination of academic excellence and personal skills developed and demonstrated on your course will make you stand out in an increasingly competitive graduate world.
Skills for the future
During a History degree with us, you'll develop numerous skills that are sought after by employers. These include critical reasoning, communication skills, the ability to work independently and to strict deadlines, to think and write coherently, to put specific matters in a broader context, and to summarise complex ideas in a discerning and creative way.
Opportunities within the department
Whilst studying History, you'll be able to take advantage of a range of career-enhancing opportunities and advice.
As well as taking advantage of the full run of activities organised by the Students Union and the Careers service, open to all university students, you'll be eligible for our specifically targeted at History students.
What do our graduates do?
History may become the focal point of your career - for example, if you are interested in teaching, academia or heritage work - or maybe you will use the range of skills and experience you gain during your degree to follow a different path.
Our graduates have gone on to become:
lawyers
marketing executives
civil servants
accountants
management consultants
university lecturers
archivists
librarians
staff in museums, tourism and the heritage industry
---
Whether you're looking to continue to a PhD degree, or want to gain professional development to help you with your future career, our MA degrees can help you to fulfil your goals, while helping you to further develop a valuable set of transferable skills.
Further skills development
During your Masters, our world-class, research-led teaching and range of modules that focus on developing your skills in research and public history will stand you in good stead for any number of career paths.
You will further develop your skills in historical research and your ability to analyse the information that you uncover, using these skills to work independently and under pressure of time to produce work that is critically reasoned, clearly argued and effectively presented.
Our public history modules are designed to help you gain more specific experience and skills. You will have the opportunity to be involved in group projects, making discoveries and producing assessed work as part of a team.
Our core module, Research Presentation, also gives you the opportunity to design and deliver a high-quality presentation at our MA Presentation Day, an academic conference-style event held in May each year.
Dedicated support for MA students
We have a dedicated Careers Liaison Officer who can help you think about your options. Each year they work with the University's Careers Service to organise events, including an evening with recent graduates talking about their careers and passing on tips for successful job hunting.
The Careers Service hosts Maximise Your Masters - a service to help you plan for your Masters year and beyond - and offers events aimed specifically at postgrad students, in addition to general sessions on topics such as developing your CV, reflecting on effective career decision making, and how to make your application stand out. 
---
The University's Careers Service offers extensive help to all students and provides a wide-ranging programme of careers-related events each semester.
The good reputation enjoyed by the service means that an extensive network of employer contacts has been built up and many top companies come directly to the University of Sheffield when recruiting graduates.
The department also runs careers events where past graduates come back to talk about their careers and pass on their tips for successful job hunting.
A world-class university – a unique student experience
Sheffield is a research university with a global reputation for excellence. We're a member of the Russell Group: one of the 24 leading UK universities for research and teaching.