Dr Caroline Dodds Pennock
B.A., M.St., D.Phil. (Oxon), FRHistS
Senior Lecturer in International History
Careers and Alumni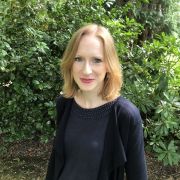 Profile

I have been at Sheffield since 2010, and am probably best known as the UK's only Aztec historian, though my current research has branched out across the Atlantic, bringing Indigenous histories into a global framework. 

I am currently working on a major trade book, telling the story of the Indigenous Americans who 'discovered' Europe in the sixteenth century. Provisionally entitled On Savage Shores: The American Discovery of Europe, the book will be published by Weidenfeld & Nicholson and Pantheon, helping to bring these fascinating, and often-forgotten, stories to a wider audience.

As well as pestering people on twitter @carolinepennock, I also work sometimes as a popular history writer, consultant, and 'talking head' expert for TV and radio. 

My first degree was Ancient and Modern History at Corpus Christi College, Oxford, where I stayed on to read Women's Studies (MSt) before receiving my D.Phil. in Aztec history in 2004. Having been a Temporary Lecturer and then Research Fellow in Cambridge, I spent three years as Lecturer in Early Modern History at Leicester before moving to the lovely city of Sheffield, where I've been happily settled ever since.
Research interests

Having started out as an Aztec-Mexica historian, the scope of my work has broadened in recent years and I am currently writing a book about the thousands of Indigenous Americans who travelled to Europe before the founding of Jamestown in 1607. When we think of the early modern period, we imagine Christopher Columbus 'discovering' America. But, at the same instant, the great civilisations of the Americas discovered Europe. Tens of thousands of Native Americans made the journey across the Atlantic from the very moment of that first encounter, and these Indigenous pioneers forged the course of European civilisation, just as surely as Europe changed America. Some of the findings from this research were recently published in American Historical Review (free access through this link). 

My first book Bonds of Blood: Gender, Lifecycle and Sacrifice in Aztec Culture (which came out in paperback in 2011) won the Royal Historical Society's Gladstone Prize for 2008. The book explored how human sacrifice could be a comprehensible part of everyday life and existence, and violence has remained a major theme of my work, forming the focus of several international collaborations, including co-editing a volume of the new Cambridge World History of Violence. 

Pursuing my wider interest in global history, I have also recently completed an article about 'Globalising Cosmologies' with my colleague Amanda Power, and am part of several international networks focusing on topics ranging from Global Middle Ages to Human Sacrifice & Value. 
Publications

Books

Edited books

Journal articles

Chapters

Book reviews

Website content

Theses / Dissertations

Other
Research group

Research supervision

I am keen to supervise research students in Indigenous American (particularly Mexican), Spanish American, colonial and Atlantic history, particularly those interested in Native travellers, gender, violence and early colonial sources. I would also be happy to discuss projects related to cultural exchange, imperial and Indigenous histories and Native American cultures.

Completed students

Harriet Smart - Choreography, Flexibility and Conformity in Postclassic Nahua Rituals.

 
Teaching interests

I see teaching as central to my work, and I have received teaching awards from Leicester and Sheffield, related to my interests in innovative teaching, learning and assessment, particularly in the field of e-learning.

I teach on a range of early modern, Indigenous, American and colonial topics, as well as on public history and questions of decolonisation. I particularly enjoy encouraging students to engage with the relevance of history in the contemporary world.
Teaching activities

Undergraduate:

HST2028 - Tenochtitlan, City of Blood and Flowers: Aztec Society in the Early Sixteenth Century
HST2502 Understanding the Aztecs: Life and Death in Early Sixteenth-Century MExico
HST3120/21 - Cannibals and Christians: Mexico and Spain c. 1492-1600

Postgraduate:

HST6043 - Burying the White Gods: Indigenous People in the Early Modern Colonial World
Professional activities

Previous administrative roles

Employability and Careers
Public engagement

I am keen on communicating history to a broad audience, and am currently writing a major new trade book for W&N and Pantheon. As well as giving public lectures and school talks, I have media experience as a historical writer, consultant and expert 'talking head' for TV, radio, websites, publishers and popular magazines. I have also worked with the educational group Mexicolore, who regularly feature my research on their website. You can find me on twitter @carolinepennock.

In the media:

History Today put me 'On The Spot' with their probing questions in July 2017, and in January 2018, I responded to media reports of the possible discovery of cocoliztli: the germ responsible for killing 15 million Aztecs. As well as writing for The Conversation, I was interviewed by both Inside Science and Making History on Radio 4. You can also hear me talking about the Aztecs on the BBC Civilisations podcast, shedding light on the history featured in the TV series, and on the acclaimed BBC podcast, You're Dead to Me, which brings together historians and comedians to learn and laugh about the past

I have appeared on TV programmes for global broadcasters including the BBC, Science Channel and the Smithsonian Channel and have featured on In Our Time on Radio 4. Most recently, I went in search of the Lost Pyramids of the Aztecs, which was broadcast on Channel 4 in the UK. I have also acted as a historical consultant for several TV projects, including Heroes and Villains: Cortés for the BBC and Mankind: The Story of All of Us for the History Channel.

You can see me talking about early modern Dutch map-making in the BBC's The Beauty of Maps [at c.0.58 and 2.24] or hear me talking about the siege of Tenochtitlan on In Our Time. I was also interviewed for BBC History Magazine's History Extra podcast about the 'last Aztec ruler' Moctezuma [October 2009, Part 2, from 13.55].

My other TV appearances include: Secrets: The Golden Raft of El Dorado and Secrets: A Viking Map?; Ancient Black Ops: Aztec Eagle Warriors; and Masterpieces of the British Museum: The Aztec Double-Headed Serpent [Part 1 and Part 2].

You can also hear me on the acclaimed history and comedy podcast You're Dead To Me, as well as on the BBC Civilisations podcast, shedding light on the Aztec history featured in the TV series.

 

Popular History Writing

As well as writing articles for popular publications such as History Today and BBC History Magazine, I have also consulted on a number of fiction and children's books.

I blog regularly for History Matters and was also invited to be a guest blogger for Scientific American on 'The 2012 Apocalypse, or Why the World Won't End This Week'.

My popular publications include:

'Head to Head: Are Empires Always Bad? The Aztec Empire', History Today (July 2019)
'When Moctezuma Met Cortés', BBC World Histories Magazine (December 2018)
'Have scientists really found the germ responsible for killing 15m Aztecs?', The Conversation (January 2018)
'In Search of the Real Aztecs', BBC World Histories Magazine (November 2017)
'Fall of the Aztecs: Moctezuma: Collaborator or victim?', BBC Knowledge Magazine (April 2012)
'Moctezuma: Collaborator or victim?', BBC History Magazine (October 2009)
'Cortés and Montezuma', BBC History Magazine (November 2007)