Aarti Iyer was a Professor of Social Psychology at our University and is currently a Social Scientist at the US Environmental Protection Agency (EPA).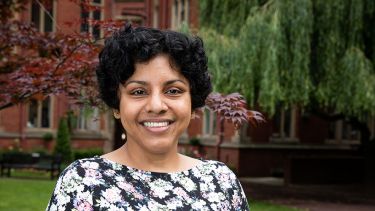 Off
Aarti Iyer was a Professor of Social Psychology. She taught research methods and statistics in the Psychology Department's undergraduate and postgraduate taught courses. Aarti served as the Departmental Director for Equality, Diversity and Inclusion (ED&I; 2016-2021) and Membership Officer for the University's Staff Race Equality Network (2018-2021).
Aarti received her PhD in 2004 from the University of California, Santa Cruz, after which she worked as a Postdoctoral Research Associate at the University of Exeter for three years. In 2007, Aarti moved to Australia to take up a continuing academic position at the University of Queensland. She joined the University of Sheffield as a Reader in February 2016.
Aarti's research here investigated responses to inequality and injustice on the part of individuals – for example, political attitudes and political behaviour — and organisations – for example, ED&I policies — across a range of contexts, including race, gender and nationality.
Together with colleagues, she published more than 50 journal articles and book chapters on these topics, with funding from the National Science Foundation (USA), the Australian Research Council, the Economic and Social Research Council (UK), and The British Academy.
Some of her most recent projects investigated the impact of political humour on individuals' emotions, attitudes, and behaviour; factors that improve the design and implementation of organisations' Equality, Diversity, and Inclusion (ED&I) policies; and predictors of immigrants' successful transitions to new countries, with implications for social integration, academic performance, and economic mobility.
Report + Support
An online platform for all staff and students to report and access support about harassment and discrimination of any kind.