How we're improving disability equality
From consulting with our staff and students on a university-wide disability survey to launching our disability equality strategy and action plan in 2022, we are committed to improving the experiences for our disabled staff and students.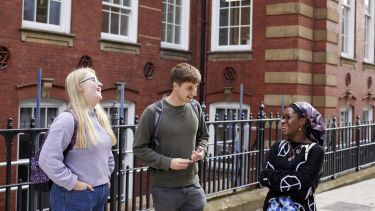 We know that we still have a lot more to do to progress this work for our university community. Following the consultation in 2021, we have listened to feedback from our University community and have already started making changes to improve the experiences and support available to our disabled students and staff.
The following is an overview of the work that is taking place and a look at some of the actions for future focus:
---
New Staff Disability Advisor Role
We are recruiting a new Staff Disability Advisor. This is a new role and the advisor will have extensive knowledge and expertise to provide support and guidance to disabled staff and their managers on all matters relating to disability in the workplace. 
---
Business Disability Forum Membership
We are a member of the Business Disability Forum. This membership gives managers access to expert advice and support, knowledge, resources, and opportunities to share best practices with other organisations. This skill and knowledge sharing will help us to improve our understanding and learn more about how we can remove barriers across the University that could prevent our disabled staff and students from thriving. 
---
Reasonable adjustment 
We are committed to providing  financial support for reasonable adjustments required by disabled staff at work. Clear guidance has been developed for managers and staff about how they can access the available budget.
---
IT support for DDSS 
Our Disability and Dyslexia Support Services (DDSS), IT Support service and epiGenesys are working collaboratively on a project to develop and implement a software system that will make it easier to include relevant applicant information and alternate exam arrangements. The system will be accessible to all faculties by the end of 2022.
---
Disability visibility
Our Students' Union has joined the Sunflower Lanyard scheme, to help empower students with disabilities that are not always visible. Students who choose to wear the Sunflower lanyard are able to discreetly identify that they may need support, help, or additional time at any time. As part of the Sunflower Lanyard scheme,  Students Union staff are able to access training materials to understand more about supporting students.
---
Learning Support Plans
A new Learning Support Plans (LSPs) system has been rolled out across some University faculties including the Faculties of Engineering, Arts and Humanities and Science. LSPs will also go live in September 2022 in the School of Mathematics and Statistics and Departments of Philosophy and Journalism Studies. There are now over 1500 LSPs in the system, an increase of more than 60 per cent in place compared with the Autumn 2021 semester, and around 1,200 staff now have access to the system. 
---
Support schemes for our students
We are reviewing the financial support schemes and guidance materials available to support disabled students. Soon, we will produce a report of findings and recommendations based on this assessment and in the 2022-23 academic year these actions will be taken forward and implemented. 
---
Report + Support
We launched Report + Support, an online platform for staff, students, and external visitors to report and access support about harassment and discrimination of any kind. This platform is reviewed every few months to ensure that it remains fit for purpose.
---
Access to Work scheme
We are committed to helping staff get the support they need. Access to Work is a government support programme that can provide practical and financial support for those with a disability or long-term physical or mental health condition. Through the programme, disabled staff can access specialist assessments, recommendations for reasonable adjustments, and financial support. 
The support you can get will depend on your needs. Through Access to Work, you can apply for a grant to help pay for practical support with your work or advice and support about managing your mental health at work. Information about Access to Work is now available to staff, together with manager guidance about supporting and managing Access to Work applications during the reasonable adjustment process.
---
Specific Learning Differences training resources
The Specialist dyslexia and Specific Learning Differences (SpLD) tutorial service at the English Language Teaching Centre, have developed two training resources for staff including a guide for managers on supporting staff with SpLDs and guide for neurodivergent employees on SpLDs in the workplace
Staff can access the full range of dyslexia/ SpLD tutorials.
---
Contact us
If you have any questions or feedback about the University's disability equality work, you can email hrequality@sheffield.ac.uk
Report + Support
An online platform for all staff and students to report and access support about harassment and discrimination of any kind.