Erasmus+ International Credit Mobility programme with the University of Ghana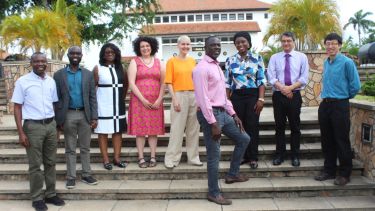 I am currently leading the implementing our €236,000 Erasmus+ International Credit Mobility programme with the University of Ghana, which will support 73 staff and PhD mobilities between our universities in the next 18 months. The project was designed to support projects through our longstanding collaboration in the area of public health, Chemistry and Bioscience, and our cooperation with the Office for Research Innovation and Development. There will also be opportunities for impact and reach beyond these specific areas.
In my role as International Partnerships Manager at the University of Sheffield I encourage staff to participate in teaching or training mobility periods to embrace cooperation with colleagues around the world and to expand the knowledge of their chosen field. Preparing students for the world beyond university education through internationalisation is also an integral part of our Learning & Teaching Strategy which states the aim to equip our graduates to be able to work in diverse cultural settings and contexts.  I am proud to be involved in this project and to support staff and students from both institutions.
I visited the University of Ghana with a group of 7 academic colleagues in June 2022, funded by Erasmus+ . I truly believe that to really make a difference we must take knowledge out of the University and share it with others. This process itself challenges our thinking, and helps us to ask better questions to refine our research. 
I would like to thank colleagues at The University of Ghana for their warm welcome to Ghana, it was a wonderful experience and I very much look forward to working closely with them all in the future.
Danielle Bertrand, International Partnerships Manager, Global Engagement