Information about past workshops.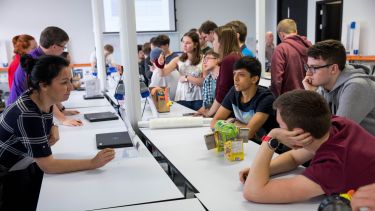 Session 1
Workshop I was prepared and run by Dr. Sandrine Soubes between 5 and 7 October 2016 in Barcelona for ITN-BIOPOL fellows. It was held along with the First Annual ITN-BIOPOL meeting.
The workshop consisted of six sessions:
Networking skills for researchers.
Communicating your research to peers.
Accessing research funding.
Presentation skills.
Addressing research ethics and integrity/Incorporating Responsible Research and Innovation in project planning and delivery.
Communicating your research to the public.
---
Throughout the workshops delivered over the 3 days in Barcelona, the students engaged extremely well in all the activities proposed.

Dr Sandrine Soubes

University of Sheffield
---
Session 2
Workshop II was run in two parts. The first part was prepared and run by Dr Lina Yassin from ProSciencia Beratung GmbH and the second part by one of the ITN-BIOPOL beneficiaries JPK Instruments AG between 6 and 8 February 2017 in Berlin.
The workshop offered students to improve their knowledge about basic principles of project management in science and business. They also had a chance to meet and to talk to IP specialists and Application scientists from JPK.
Part I - Project Management
Project definition and project specification.
Strategic planning - Point Ball Game.
Agile project management.
Risk and Mitigation.
Student supervision.
Time management and time management matrix.
Requirements and deadlines - Kanban game.
Prioritisation.
Part 2 - Innovation
Tour of JPK – R&D Laboratories and Production Facilities (Dr Torsten Mueller and Oilibhe Pabsch).
Innovation Management (Oilibhe Pabsch – Public Affairs).
Introduction to Batch Image Processing (Andre Koernig).
IP issues – a practical introduction (Detlef Knebel – Head of Department).
Life as an Application Scientist (Heiko Haschke – Head of Applications.
---
Workshop 3
This workshop was prepared and run as webinars by Dr Chris Coleridge from the University of Cambridge (Senior Faculty in Management Practice Director, Cambridge Judge Launchpad, Cambridge Judge Business School) on 4 and 6 July 2018.
The workshop offered students to improve their knowledge about basic principles of entrepreneurship, entrepreneurial strategies and business models. Fellows were able to attend live webinars, interact with the instructor and other participants.
WEBINAR 1: Entrepreneurial Behaviours and Opportunities
Research suggests successful entrepreneurship often results from "effectual" logic and actions rather than a causal approach—in other words, starting with means rather than with ends. This webinar explored what this logic means for the behaviours an entrepreneur needs to exhibit, and how that interacts with the availability and quality of "opportunities" for entrepreneurship.
WEBINAR 2: Entrepreneurial Teams
This webinar examined the foundations of successful teamwork and how they apply in the situation of the nascent venture (which, increasingly, is founded on teams.) It also examined the principles behind the split of equity in a team.
WEBINAR 3: Entrepreneurial Business Models and Strategy
This webinar examined the concept of the business model with a particular emphasis on the customer and the value proposition, and reviewed four "lenses" on competitive strategy which help explain the principles of making commercial ventures profitable.
WEBINAR 4: Customers and Going to Market
This webinar examined the way the nascent entrepreneurial venture should approach the business of gaining customers and finding avenues for revenue growth.
---
Workshop 4
Workshop IV was prepared and run by Sarah Blackford, Career Consultant, between 1 and 2 September 2018 in Harrogate, UK. The workshop was organised along with the ITN-BIOPOL Final Meeting and PhysCell2018 conference. Workshop IV consisted of two sessions incorporating facilitator presentations, practical activities and group discussions.
Session 1 - CAREER PLANNING AND DEVELOPMENT – KNOWING YOURSELF, KNOWING THE JOB MARKET:
Discovering your strengths and challenges.
Exploring the job market and identifying employer needs.
Skills analysis and linking to employer requirements.
Review of skills and career choices.
Self presentation and promotion.
Writing an effective CV and covering letter.
CVs and covering letters for different purposes.
CV peer assessment.
Review and preparation for interview workshop.
Session 2 - CAREER PLANNING AND DEVELOPMENT – SUCCESSFUL INTERVIEW TECHNIQUE:
Presentation of interview technique.
Practice interview.
Two mock interviews with external interviewers: non-academic and academic post.
1-2-1 sessions with tutor.
Flagship institutes
The University's four flagship institutes bring together our key strengths to tackle global issues, turning interdisciplinary and translational research into real-world solutions.