Academy of Social Sciences honours Jackie Harrison with prestigious fellowship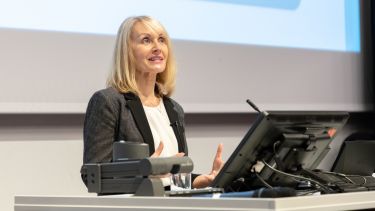 The head of the Department of Journalism Studies, Professor Jackie Harrison, has been awarded a prestigious fellowship in recognition of her work on media freedom and the role of the news in civil society.
The honour was conferred in October by the Academy of Social Sciences – a highly respected UK-wide organisation promoting the social sciences for public benefit.
As chair of the Centre for Freedom of the Media (CFOM) – a research institute based in the Department of Journalism Studies – Jackie has become increasingly renowned for her expertise and ongoing work in the field of journalists' safety and liberty.
Research undertaken by Jackie and her colleagues at CFOM highlights a recent upsurge in violence against journalists across the world and a widespread failure to bring the perpetrators to justice. The Academy of Social Sciences fellowship follows her appointment in 2018 as the first UNESCO Chair in Media Freedom, Journalism Safety and the Issue of Impunity.
Jackie said: "I'm delighted to be judged by my peers to be worthy of a fellowship of the prestigious Academy of Social Sciences.  It is an honour to be placed alongside its fellows, all of whom have made such important contributions to public life by working to improve social, political and economic well-being for all."
Fitting recognition
The award of fellow of the Academy of Social Sciences is made after a peer group has reviewed the status and impact of an individual's work and deemed it worthy. The academy typically requires a recipient to have "significant achievements to their name" and to have contributed to the field "more broadly than the normal demands of their job" in thought leadership, policy development or practical application.
Fellows include figures from public life, politics and government, and the private sector as well as academics.
Jackie is one of three academics across the University of Sheffield's Faculty of Social Sciences to have been awarded the fellowships, along with Professor Damian Hodgson of the Management School and Professor Kate Reed of Sociological Studies.
Head of the faculty Professor Craig Watkins said: "I would like to congratulate Jackie, Damian and Kate on becoming fellows.
"It is a very prestigious achievement to be nominated by your peers for this position and fitting recognition of their scholarship and the huge contribution that each of them has made to their discipline, and to our faculty and University.
"It is excellent that Sheffield continues to be so strongly represented in the academy fellowship."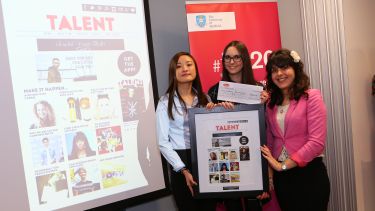 Our outstanding reputation for journalism
The Department of Journalism Studies ranks in the top 5 of all three of the UK's independent university league tables.
Flagship institutes
The University's four flagship institutes bring together our key strengths to tackle global issues, turning interdisciplinary and translational research into real-world solutions.