Journalism Students visit Media City in Salford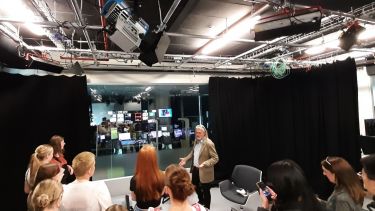 Media City is a world-class hub for broadcast media and Journalism in the North West of the country
and we set off at 9am on the coach from The Diamond in Sheffield to make our way to Salford.
Once we arrived at about 10.45am, we made our way to Media City's Orange Tower where AJ Dean, ITV's Communications and Engagement Manager in the North, explained the functions of ITV's entertainment and news outlets.
We watched a video illustrating the sheer broadcast power ITV possesses before we had the spontaneous and wonderful privilege of speaking to Martin Hibbert, the closest survivor of the Manchester Arena bomb attack, who had recently summited Mount Kilimanjaro to raise awareness for people suffering from spinal cord injuries, and who had come into the studios in the morning to speak to ITV's media teams.
He had become only the second paraplegic in the world to summit Africa's highest peak in Tanzania and we were afforded the wonderful opportunity to ask him questions about his phenomenal achievement before a few students managed to secure photos with him. 
After a talk with the BAFTA award-winning ITV journalist Elaine Willcox gaining insight into the workings of a typical Newsday at ITV, the students on the trip were then split into two groups as Group 1 embarked on a tour of ITV's Newsroom while Group 2 set off to explore Media City's Dock10 Studios. 
ITV's Newsroom was a hive of activity as reporters scoured the Internet for stories, answered phone calls and kept track of their broadcast competition on the aerial TVs and monitors. It was insightful to see how the news team operated with news members said to be capable of delivering up to eleven jobs each in a highly-skilled and versatile newsroom. 
It was explained to us how multimedia skills are an increasingly pivotal facet of Journalism with journalists now expected to be capable of sourcing, producing and editing stories themselves while simultaneously selling their stories on social media to enhance engagement.
We got to hear from a trainee ITV News reporter about his experience working in the newsroom before then being immersed in the world of weather with ITV's weather presenter Jo Blythe who explained some of the dynamics behind producing and delivering the iconic TV weather reports. It was interesting to discover that ITV does not use autocues as part of its weather reports unlike some other news outlets. 
Group 1 were shown into the ITV presenting room where the late-night presenters present their national headlines in the iconic white chairs and then the curtain was opened on the stunning ITV gallery suite which helps ensure smooth running and transmission of programmes going out live on-air. 
Both the presenting studio and ITV gallery suite overlook Salford Quays which enables ITV to provide a natural backdrop to its live broadcasting at times over the course of the day. 
After learning about the ITV Newsroom and studios, Group 1 then moved on to explore Dock10 Studios where a myriad of TV programmes are filmed and produced ranging from Blue Peter to Ian Wright's new Moneyball series. It was fantastic to see the iconic Blue Peter sofa and set as well a studio the size of Shakespeare's Globe in London where Moneyball is filmed even if we were forbidden from taking photos of them!
We stopped off to marvel and gape at the beauty and immensity of the enormous 3D green screen studio where the likes of Match of the Day and BBC Sport programmes are shot. The plethora of cameras, lights and green coverage enable 3D backgrounds and sets to be created which have helped give programmes like Match of the Day creatives background from which to project their football graphics and statistics. You felt so small in this space with the labyrinth of lights and cameras above giving the impression of an ethereal high-tech constellation in the night sky.
It was also explained to us by Dock10 Studios' Head of Marketing and Communications Darren Deans that this space was also where BBC Bitesize's educational programmes were set up to enable millions of children to continue learning while the country grappled with the beginning of the COVID-19 pandemic in the UK.
He explained why now is such an exciting time to enter the world of television and broadcast media with its incredible technological advancements and burgeoning demand for engineers, set creators and behind-the-scenes staff to keep the cogs whirring in the broadcast machine.
Both groups then re-united back in Orange Tower for a final talk from Elaine Willcox and AJ Dean about the employability skills ITV is looking for in its next generation of journalists and media professionals.
It was a truly magnificent day for all students fortunate enough to go on the trip to be given such outstanding behinds-the-scenes expertise and insight into the workings of the broadcast media industry. 
It has left us all incredibly motivated and inspired to forge our own path into this exciting and rewarding industry which continues to grow and evolve.
Our outstanding reputation for journalism
The Department of Journalism Studies ranks in the top 5 of all three of the UK's independent university league tables.
Events at the University
Browse upcoming public lectures, exhibitions, family events, concerts, shows and festivals across the University.