Roundup of day three at the 2022 IPPC Conference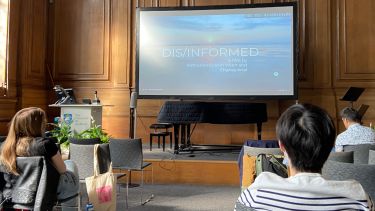 The final day of the IPPC conference spotlighted several virtual guest speakers who explained timely topics such as disinformation, conspiracy theories and environmental issues. 
To start off the day, Peter Knight, an American Studies professor at the University of Manchester and expert on conspiracy theories, presented his research on conspiracy theories which emerged at the height of the COVID-19 pandemic. Peter spoke about how the circulation of COVID-19 conspiracy theories can't be blamed on political parties or social media. They are rooted in people's genuine concerns about, or resentment towards a certain topic.
The next virtual session featured Lucie Le Cointe from Extinction Rebellion, a global environmental movement and campaigning organisation. Lucie provided context regarding ongoing environmental issues, and explained that civil disobedience tactics helps local and national governments recognise climate change threats.  
Continuing on with the theme of understanding the spread of disinformation, IPPC students then watched the documentary "Disinformed" directed by Katharina Gellein and Charles Kriel. The 2021 film showcased expert opinions regarding conspiracy theories surrounding topics such as QAnon and COVID-19 vaccines. Afterwards, students were able to engage in a virtual Q and A with the directors and ask them questions regarding the inspiration and process for producing "Disinformed." 

These events concluded the 2022 IPPC conference, "Public and Political Communication in an Era of Populism, Pandemics and Propaganda". The current IPPC students would like to thank all the guest speakers for coming and sharing their knowledge, and the IPPC lecturers for organising and facilitating the conference. 
Our outstanding reputation for journalism
The Department of Journalism Studies ranks in the top 5 of all three of the UK's independent university league tables.
Weekly online events
Attend an online event when it suits you, all year round, as an alternative to an open day.
Every Wednesday, Sheffield Live sessions cover different aspects of University life. You can also meet your department and learn more about studying your subject.