The Dan Walker Journalism Scholarship
The Department of Journalism Studies is delighted to offer two Dan Walker Journalism Scholarships worth £10,000 each for home fee paying students starting a taught postgraduate course in MA Broadcast Journalism in 2023.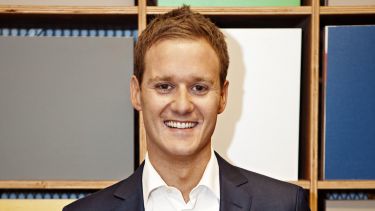 On
The scholarships are for students who meet at least one of our widening participation criteria. If your application is successful you can use the scholarship towards fees or living expenses – the choice is yours.
This is a fantastic opportunity for students on MA Broadcast Journalism to be mentored by one of the country's leading news and sports journalists and broadcasters. This will include support and advice from Dan on your career development.
Dan Walker studied on the Broadcast course in 1998-99 and also completed his undergraduate degree at the University of Sheffield. He has been at the helm of the UKs most popular morning TV show – BBC Breakfast – from 2016 to 2022, and now presents the Channel 5 Evening News programme. Dan continues to regularly present Match of the Day as well as the BBC's NFL Show.
The scholarship provides opportunities for periods of work experience in journalism and production, and advice from Dan as you go through the course and prepare for a career.
---
You can apply for a scholarship if you meet all of the following five criteria:
You are from a group that is evidentially under-represented among the institution's taught masters population - see the widening participation criteria below
You either already hold an offer of a place, or wish to apply, for MA Broadcast Journalism at the University of Sheffield. You will need to have applied for the course before the scholarship deadline to be considered
You are a home fee paying student
You are not already qualified at masters level, or higher
You are self-funding
Students intending to take a postgraduate student loan can also apply for a scholarship.
You are eligible to apply if you meet any of the following:

You have been in care as a looked-after child for at least 13 weeks since the age of 14 and be aged under 25 on the first day of your course
You are estranged from your parents and are aged under 25 on the first day of your course
You have a disability
You are a carer for an ill or disabled family member
As an undergraduate student you were/are in receipt of support from the Student Loans Company which indicates that your household income was assessed as £40,000 or less
You are from a black and minority ethnic group
You come from one of the most deprived areas of the country as defined by the government's IMD (Indices of Multiple Deprivation) database. If your postcode IMD value is 16,250 or less, you meet this criterion. You can check your postcode ranking using the IMD website. You should check the postcode for the address you lived at during your last year of school or college. Please note this criterion only applies to students who live in England
You come from an area where it is unusual for people to go to university. This is defined by the government's classification called Polar 3; to meet this criterion your address must fall into quintile 1 or 2 in the young participation quintile or the Adult HE qualification quintile. You can check your postcode quintile using the POLAR search tool. You should check the postcode for the address you lived at during your last year of school or college. Please note this criterion only applies to students from the UK.
Other funding opportunities for masters degrees
There are two stages to the application and selection process which depend on whether or not you already hold an offer of a place on MA Broadcast Journalism for entry in September 2022.
Existing offer holders: To access the application form you must select 'Apply Now', 'Click here if you are a prospective student' then 'Need an account? Sign up here'.

New course applicants: In order to be eligible to apply for the scholarship you must have applied for a place on MA Broadcast Journalism before the scholarship closing date of 1pm on 29 June 2023. You can still apply for the course after this date, but you will no longer be eligible to apply for a scholarship. To apply for a course please use our Postgraduate Online Application Form.  
Apply for the Dan Walker Scholarship
We will contact all applicants before 1pm on 6 July 2023.
You will be shortlisted and invited for interview on the basis of your scholarship application. Applications will be assessed by our panel of senior academic and professional services staff who will give consideration to the following: 
Applicant has provided a clear rationale for applying for the MA Broadcast Journalism degree at the University of Sheffield
Applicant has identified clearly how the scholarship and mentoring opportunity will be beneficial to their student experience
Applicant has clearly articulated future ambitions; these goals relate to the postgraduate degree they have applied for, and they involve appropriate and credible contribution from which others will benefit
This scholarship is part of the Sheffield Postgraduate Scholarship scheme and if successful with both applications you will only be eligible to receive one. 
---
If you have any questions or would like to talk to someone about the awards, please contact the Student Fees and Funding Team 0114 222 1319 or sheffieldscholars@sheffield.ac.uk.
Weekly online events
Attend an online event when it suits you, all year round, as an alternative to an open day.
Every Wednesday, Sheffield Live sessions cover different aspects of University life. You can also meet your department and learn more about studying your subject.