Each year, our staff and students are invited to a range of seminars that touch on the most relevant topics and emerging research in the study of journalism, media and communication.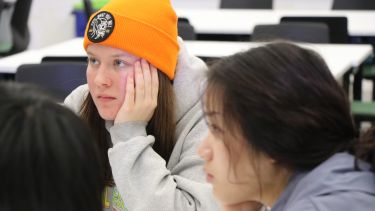 Off
If you'd like to suggest a speaker for a future research seminar, please email the seminar series coordinator Dr Dani Madrid-Morales on d.madrid-morales@sheffield.ac.uk.
Our research seminars are being presented in a mix of hybrid, online and in-person formats. Please ensure you check the below programme before attending. 
If you are not a current staff / student member at the Department of Journalism Studies and are interesting in attending any of these talks, please email the seminar series coordinator Dr Dani Madrid-Morales: d.madrid-morales@sheffield.ac.uk. You can also book onto the talks via eventbrite.
---
Wednesday 22 February, 2.00pm pm (in-person event, venue TBC)
Talk: 'Local 'fixers' in conflict reporting: Emotional labour and the ethics of transnational collaboration'
Dr Johana Kotisova

Marie Skłodowska-Curie Fellow
University of Amsterdam 
---
Wednesday 8 March, 2pm (hybrid)
Talk: 'The localisation of international news brands in Latin America: integration and disruption. The cases of CNN Chile and CNN Brazil'
Dr Pablo Morales
LSE Fellow in Media and Communications
London School of Economics and Political Science
---
Wednesday 15 March (hybrid)
Talk: 'The Menstrual Movement in the Media: Reducing Stigma and Tackling Social Inequalities'
Dr Maria Tomlinson
Lecturer in Public Communication and Gender
University of Sheffield
---
Wednesday 26 April, 2pm (hybrid) 
Book Launch: 'Seeking truth in international TV news: China, CGTN and the BBC'
Dr Vivien Marsh
Design, Creative and Digital Industries Lecturer
University of Westminster
 
---
Wednesday 3 May, 2pm (online)
Talk: 'Mobile telephony, mBanking, and gender inequality in the lives of married women in western rural Kenya'
Dr Leah Komen

Senior Lecturer School of Communication
Daystar University
---
Wednesday 10 May, 2pm (online)
Panel: Media freedom, risk and resilience in journalism practice in Southern European countries. Comparative study of Bulgaria, Cyprus, Greece, and Malta.
Dr Lada T. Price
University of Sheffield

Dr Lambrini Papadopoulou
National and Kapodistrian University of Athens

Dr Theodora A. Maniou
University of Cyprus

Prof. Marilyn Clark
University of Malta
---
Find out more about our previous seminar programmes
Flagship institutes
The University's four flagship institutes bring together our key strengths to tackle global issues, turning interdisciplinary and translational research into real-world solutions.