Global challenges, Sheffield solutions
Whether it is tackling inequality, navigating Brexit, ensuring food security for all or fostering a more environmentally sustainable future, the insights and innovative methods employed through social science research are critical if we are to address some of today's most pressing challenges.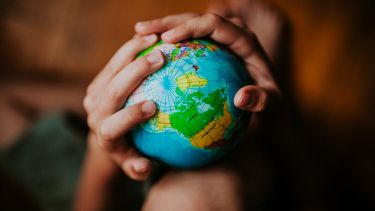 On
In order to help facilitate stronger links between academic and policy worlds, Sheffield Solutions supports events and activities aimed at bringing together policy makers, practitioners and social science perspectives to tackle pressing policy issues.
Sheffield Solutions provides our researchers with a supportive platform through which they can share their work and expertise, engage with policy audiences, and offer fresh perspectives and insights on issues of national and international importance.
---
Our Sheffield Solutions policy briefs identify policy gaps or opportunities where our research is uniquely placed to offer fresh perspectives and ideas.
Measuring social mobility in the creative and cultural industries
Building an accurate picture of social inequality is key to understanding how to address it. Equality monitoring of the workforce across business sectors and policy domains is long-established, providing analyses such as the gender pay gap, for example.
Yet, requests for people's protected characteristics to understand diversity issues is frequently met with suspicion.
This research investigated issues related to equality monitoring data, focusing on the cultural sector, as one increasingly criticised for inequalities in who is able to get in, and get on, in creative work.
It was concerned with how data are collected, analysed, valued, shared and published, and the quality and ethics of these data processes. It also aimed to advise on how to rectify the absence of class and socio-economic measures from these data processes.
The findings from this research are presented in:
a working paper with detailed findings and recommendations, that is aimed at the cultural sector
a policy briefing document, aimed at the creative and cultural industries, that can inform all sectors and domains on equality monitoring
They both outline ways to address existing metrics and data practices, explaining how it is possible to improve the experience of data collection and the quality of the data collected. They also present the outcomes from trialling 50 questions that generate data on various aspects of socio-economic inequalities.
This can advise organisations, sectors and policy domains on which questions to introduce, and how to introduce them well to improve equality monitoring data.
Read the working paper (PDF, 7.2MB)
Read the policy briefing (PDF, 822KB)
---
The membership journey: understanding and boosting membership today
Membership is an important part of the working of a healthy democratic system. Yet in a world where individual and sporadic engagement is becoming the norm, membership of political organisations is increasingly unusual.
In this report Dr Katharine Dommett and Dr Sam Power diagnose and respond to the challenge of membership, offering practical suggestions for membership organisations by confronting three questions:
How can members be recruited?
How can members be encouraged to engage in different activities?
How can members be retained?
Read the briefing (PDF, 851KB)
---
Tackling homelessness together: the importance of local authorities and housing associations working in partnership
This briefing offers insights into how the current policy environment is affecting partnerships between local authorities and housing associations, specifically within the context of preventing and tackling homelessness at a local level.
Read the briefing (PDF, 1.07MB)
---
Going further back: earlier action on multiple needs to prevent homelessness
This policy briefs sets out out a more coordinated approach to homelessness prevention, and how both national and local policy can support this, focusing on the importance of recognising opportunities to intervene earlier.
---
Beyond the numbers: incentivising and implementing better apprenticeships
This policy briefing looks at practical ways to overcome negative stereotypes about apprenticeships and to ensure that young people get into high-quality training schemes.
Professor Louise Ryan (Sociological Studies) and Magdolna Lorinc (Middlesex University).
Read the briefing (PDF, 940KB)
---
A recipe for parliamentary impact? An academic guide to effective engagement
Many academics are increasingly interested in engaging with parliament. This policy briefing presents findings of research conducted through workshops with parliamentary staff to provide practical guidance for those looking to engage.
Dr Kate Dommett (Politics), Dr Marc Geddes (Edinburgh University) and Dr Brenton Prosser (Australian National University).
Read the briefing (PDF, 1.06MB)
---
Devolution and disadvantage in the Sheffield City Region: an assessment of employment, skills and welfare policies
Devolution is being used to implement further austerity cuts on the Sheffield City Region (SCR) with disadvantaged groups and areas particularly affected.
Professor Martin Jones (Geography) and Dr David Etherington (Middlesex University).
Read the briefing (PDF, 1.6MB)
---
Children's Chances policy briefs:
Stop the clock: how can we prevent young carers undertaking inappropriate or excessive care?
Young carers are a largely hidden group of children and young people who provide vital care for their families, often 24/7 and over prolonged periods of time.
The nature and intensity of young carers' responsibilities often severely impact their own health, social, economic and educational well-being.
This briefing provides new research evidence from young carers about the challenges they face, highlighting the need for four areas of policy action.
Read the briefing (PDF, 262KB)
---
Family portrait: single parent families and transitions over time
The Office for National Statistics reports that, in 2017, there were around 1.8 million single parent headed households with dependent children in the UK, representing 22% of families with dependent children.
This policy brief uses the longitudinal data from Understanding Society to examine changing family dynamics for parents and children experiencing single parenthood.
Read the briefing (PDF, 198KB)
---
Turning 18: Independence or cliff edge?
Indicators of child and adult well-being for children who are and have been in the care system are poor compared to peers in the general population.
This policy brief focuses on the experiences of residents of a nine bed therapeutic unit for young women in local authority care between the ages of 16-18, where the aim is to prepare them for responsibilities that come with that transition to adulthood.
Read the briefing (PDF, 253KB)
---
Care proceedings in England: the case for clear blue water
Over the last ten years there has been a steady increase in England in the number of local authority applications for Care Orders. The proportion of children looked after by the state, who are also subject to a Care Order, has increased too.
In this policy briefing, Isabelle Trowler highlights the findings from an exploratory study of care proceedings in four local authorities across England.
Cases were reviewed by both Isabelle Trowler and peer reviewers from partner authorities. Interviews were conducted with key social work decision makers.
---
We work closely with government departments, NGOs and community groups, and the third sector to ensure our research speaks directly to the challenges on the frontline.
A key example is our partnership with the Department for Work and Pensions (DWP), where we have developed a more systemic arrangement in order to help build a richer connection between the academic and policy worlds.
This close relationship enables the academics to develop a clearer understanding of policy directions and processes, whilst also helping DWP to access fresh thinking on some of their more pressing policy needs in a timely and accessible manner.
This co-produced Practical Guide to Collaboration outlines just some of the activities where we collaborate.
The Crook Public Service Fellowship Scheme and The University of Cambridge Centre for Science and Policy (CSaP) Fellowship Affiliate Network are two of our flagship schemes that enhance meaningful collaborations between our academics and key stakeholders.
We also support PhD internships and academic secondments, teaming up with organisations such as Oxfam, DWP, Sheffield City Council and YouGov.
---
Whether through closed workshops, public events or panel discussions, we know that facilitating interactions between researchers, policy-makers and the public is crucial in order to both enrich our research as well as influence policy development. Examples of Sheffield Solutions events include:
"From Primary through to PhD: How does evidence inform policy throughout our education system" with Dr Tim Leunig, the Chief Scientific Advisor at the Department for Education
School Engagement and Youth Transitions: Findings of the RESL.eu project, 9 June 2017, Seven Dials Club, London
Regulation of the Private Rented Sector in England: Lessons from Ireland, Report launch and Roundtable, 27 April 2017, Joseph Rowntree Foundation, 89 Albert Embankment, London
Sustainable Sheffield: How might we best implement the Sustainable Development Goals in Yorkshire?, Workshop hosted by INTERSECTION, 29 March 2017
Sheffield Solutions Policy Roundtable with Natalie Bennett, former leader of the Green Party, and academics working on environment and sustainability
The DWP-Faculty of Social Sciences lunchtime seminar series
In-Work Progression Policy Roundtable with DWP colleagues and social sciences academics
The Work, Pensions and Labour Economic Study Group (WPEG) conference 2016, held in conjunction with DWP
An ongoing seminar series, "The Politics of Judicial Independence", led by Professor Graham Gee with representatives from the Low Pay Commission and the Ministry of Justice
"The Future of Employment Support", bringing together colleagues from our Dept of Geography, DWP, Gingerbread and the Social Market Foundation
"Moving to a high wage, low tax, low welfare economy" with speakers from DWP, Resolution Foundation and Oxfam
---
We work with academics to help maximise the accessibility and influence of their research. Our helpful Top Ten Tips guide (PDF, 660KB) offers some useful steps that can be taken to share research and boost impact.
For more information on Sheffield Solutions or to get involved, please contact sheffieldsolutions@sheffield.ac.uk.
Flagship institutes
The University's four flagship institutes bring together our key strengths to tackle global issues, turning interdisciplinary and translational research into real-world solutions.