Frequently asked questions
Find answers to the questions we get asked most often in the Department of Journalism Studies.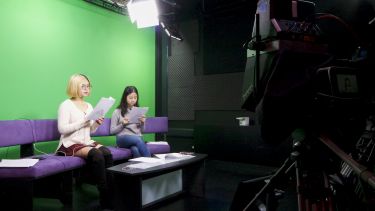 What are the entry requirements for the course?

Our standard entry requirement is A Level grades ABB. In some years a limited number of places may be available through Clearing to impressive students who narrowly miss out on these grades, or who have achieved them after a lower prediction.

Please see our equivalent grade requirements for qualifications other than A Level.

If you're interested in the course but don't have regular qualifications (particularly if you're looking to join us as a mature student), then BA Journalism Studies with Foundation Year may be your best option.

Do you recommend any subjects for A Level, A/S Level or Highers?

No. Our advice is to study what interests you, the subjects you find the most compelling. We want students with the ability to dig deep into a wide range of topics, but we do not need you to have begun already to explore journalism. Media studies is not an advantage.

Do I need any other qualifications?

Spell accurately and use grammar correctly. Otherwise, no. The most important section of your application is the personal statement. It should state clearly why you want to study journalism and it should explain that you know something about the work of the central figure in journalism – the reporter. Try to gain some work experience in a newsroom. Often the best experience is gained in small weekly newspaper offices, but local radio, free newspapers and hospital radio can all give you some idea of the reporter's job.

Will it help if I've already had some experience of journalism?

If you have already had journalistic work published or broadcast, or if you have produced a blog or podcast, or anything else that may be relevant, we would like to see it. Please send us links to your work online, or clips of your work in print or broadcast media. But if you have not had any previous experience in journalism or the media, please don't be deterred from applying. We would still like to hear from you and will treat your application on its merits.

Is there anything I can do to enhance my application?

You can apply only through UCAS. But the UCAS form does not have to be your only application. For example, you may have stories published in your local newspaper. Send them. If you complete work experience, ask your supervisor to write a reference – and tell them you are applying to a course accredited by the NCTJ. Persistence is a journalistic virtue we welcome in applications for admission.

Another university has made me an unconditional offer. If I make it my firm choice, what should I do?

The most successful and happiest students are those who pick the course and university that suit them best, and we're confident that the excellent academic standards and quality of life that Sheffield students enjoy will inspire applicants to accept our offer even if it's not the easiest option for them. We very much hope that you decide to firm us and that we can welcome you to the department.

Will you lower your entry requirements for me if I make Sheffield my firm?

No. Some universities may need to lower their requirements or make unconditional offers in order to fill all the places on their courses. Places at Sheffield are in high demand, however. If Sheffield is your top choice, our advice is to make us your firm and do your best to achieve ABB.

What if my application is rejected?

Ask for an explanation. We're happy to explain the decision and give advice. And you can ask for us to reconsider the decision, especially if you believe an important aspect of your application has been overlooked. From time to time we make offers to students who had originally been rejected.

Does the course include work placements?

Yes. We arrange placements for you during the second year. You will not be assessed on the time you spend on placement, but it is an important part of the course. We encourage and help you arrange subsequent placements.

How is the course taught?

We use a wide range of teaching methods – lectures, seminars, skills workshops, individual copy clinics (tutorials). You will be assessed by an equally wide range of criteria – essays, examinations, seminar contributions, news stories, newspaper pages, feature writing, radio reporting, television news and documentary. Journalism skills are taught in simulated newsroom conditions, and we believe the intensity and quality of teaching we offer is of the highest standard. The harder you work at being a journalist, the more we will teach you.

Will my degree give me a vocational qualification?

It depends what you mean by a vocational qualification. The course is not vocational in the sense that it does not lead directly to one specific job. However, it is double-accredited by two of the UK's major professional media training organisations: the National Council for the Training of Journalists (NCTJ) and the Professional Publishers Association (PPA). This accreditation is recognised as a guarantee of quality and skill by media employers, who hold Sheffield in particularly high regard.

Graduates of the degree boast an excellent record of employment and achievement. The Sheffield BA in Journalism Studies is widely recognised across the media as a rigorous and demanding qualification. Many of our graduates are employed in journalism and the media. Others work in PR, communications and marketing. Some follow different pathways such as teaching. The skills and attributes you develop on the degree – language and communication, time management, team working, research, initiative, confidence, independence – are useful in a huge range of careers.

Many students add direct vocational qualifications to their degree by sitting the examinations of the NCTJ. We regularly hold NCTJ exams here, and the course teaches all you need to pass in shorthand, law and public administration.

Why is the degree called BA Journalism Studies and not just BA Journalism?

We'll teach you all the practical skills you need to hit the ground running in a media career. But we'll also encourage you to reflect critically on the practice of journalism, and to consider why excellent journalism is so crucial to a free, democratic society. Practical skills can make you a good journalist. But it's only by combining those skills with this view of journalism's bigger picture that you can become a great journalist.

That's why we call the course BA Journalism Studies. That's also why we think Sheffield journalists are the best in the business.

Is the course hard work?

Very. We think it is harder than other social science or arts degrees because students must go out and find stories, travelling far beyond the library or bookshop. For example, you will be assigned to neighbourhoods in the city where you will be responsible for unearthing stories and features. You will be sent to find court cases and council meetings to cover. In other words, you will need initiative, persistence and imagination – qualities that make good reporters.

Is it true that the course concentrates on newspaper reporting?

This is an important first step. We believe the aspiring journalist must first learn to write. You will be writing news – for digital publication, of course, as well as print – from the first week of the course to the last. By then, you will be reading widely from fiction and non-fiction to develop writing styles for features, interviews, investigations, sport and in-depth reports. But there is no conflict between newspaper and broadcast journalism. We believe news writing skills adapt easily to radio and television, and you will have rich opportunities to become fluent in broadcast journalism.

What if I still have questions?

Ask. Keep asking until you understand, even if you want general career information. We're happy to help.
Explore the University
Discover why Sheffield is the right choice for you at one of our open days or events.