All of the information you need about fees and funding for undergraduate study in the Department of Journalism Studies.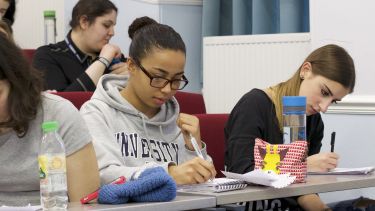 ---
As part of your degree you have the opportunity to take external exams administered by the National Council for the Training of Journalists (NCTJ). There is no additional charge for your first sitting of these exams – this cost is covered by the Department of Journalism Studies. If you resit the exams, however, you will need to pay the fees. (We strongly encourage students to take the NCTJ exams, but they are not compulsory and you don't need to sit or pass them to complete your degree.)
We will also pay the expenses (eg for travel) that you incur in reporting from your 'patch' when you go out into the city to find stories.
Your course fee does not cover the cost of any textbooks, and you will need to buy Teeline Gold Standard for Journalists by Marie Cartwright before your degree begins.
Student funding calculator
The University of Sheffield runs several schemes to help you fund your studies and enhance your learning experience. You can use the University's student funding calculator to find out which awards you could be eligible for.
Scholarships for undergraduates
Funding is available from the University of Sheffield for undergraduates in Journalism Studies, depending on your circumstances. 
Undergraduate scholarship funding
Stephen Lawrence Trust Scholarships
Undergraduate applicants to the University of Sheffield can apply for an Experience Sheffield Scholarship worth £1,200 for each year of their degree. In addition, there are three Stephen Lawrence Trust Scholarships available for BAME students in the disciplines of Architecture, Journalism and Law. The scholarship will cover the full cost of tuition for the successful candidates' undergraduate courses.
BAME students who meet the eligibility criteria for an Experience Sheffield Scholarship, and who have an offer to study a course in Architecture, Journalism or Law, should complete the standard Experience Sheffield Scholarship application process to be considered for the Stephen Lawrence Trust Scholarships.
The deadline to submit an application is 12pm (midday) Monday 19 April.