Luxembourg Studies Colloquium 2019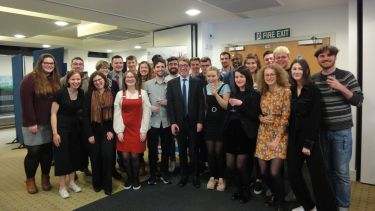 The annual Luxembourg Studies Colloquium took place on Friday, 3 May 2019 from 11.00am-5pm in the Humanities Research Institute (HRI), and featured a plenary lecture on Cape Verdean migration trajectories into Luxembourg by Dr Bernardino Tavares (University of Luxembourg). The Luxembourg Ambassador to the UK was also in attendance and addressed the audience during the afternoon segment of the programme.

Plenary Abstract: This lecture explores Cape Verdean migration trajectories into Luxembourg from a multisited sociolinguistic point of view. Approaching migration as both emigration and immigration, it presents sociolinguistic aspects of both aspiring and accomplished Cape Verdean migrants to Luxembourg. Based on a narrative and material ethnography, it addresses migration and its inequalities from the colonial past to the current episode of globalisation. It seeks to show how migrants' absence is marked in their country of origin and how they construct alternative spaces in their host country. More generally, it will show how migration is a struggle from the start in the country of origin, with prospective migrants making considerable efforts and investments to travel north, often in vain, and continues to be a struggle for those who succeed to arrive in the North. Language duties are always demanded and migrants are constructed from a linguistic deficit perspective rather than addressing the systematic and structural conditions that contribute to unequal struggles among migrant groups and between the locals and the migrants, intersecting with gender, class and race. This lecture provides an account of how multilingualism itself is also a struggle for Cape Verdeans, as Luxembourg's trilingualism is often used as a gatekeeping device.
Explore the University
Discover what sets Sheffield apart at our next on-campus open day.