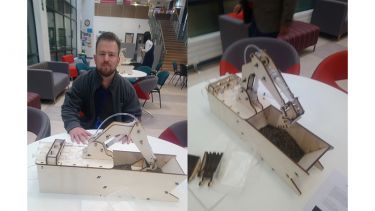 Three weeks ago an email was sent out to ask for doctoral students to get involved in this year's school outreach program to increase the awareness of engineering among 15 and 16-year-old students in the Sheffield region. The aim of the programme was to make a mechanical device that the students could interact with and learn a little bit about engineering.
So Luke and a number of other IDC students, collaborated with Dr Julia Carrell and other doctoral students from the Departments of Mechanical Engineering to help create a hydraulic digger concept. The digger concept was first created in CAD to generate a prototype and once we were happy with the prototype we made arrangements for the digger components to be laser cut out of plywood at the University of Sheffield's iForge. Six sets of the digger were cut out in plywood so that we could accommodate six groups during the outreach program.
Today's discovery session went really well and I'm glad to say that the digger design works really well and the students really enjoyed using the diggers and the session. Its been a pleasure to be involved in the outreach program so far and to work with Dr Julia Carrell and the other doctoral students involved in making it happen.
A world top-100 university
We're a world top-100 university renowned for the excellence, impact and distinctiveness of our research-led learning and teaching.