Success for first IDC MachMan 2015 Conference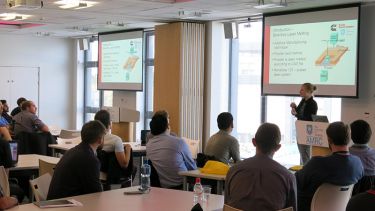 The Industrial Doctoral Centre's (IDC) first student conference at the KTC on the 21st of October 2015 was a great success and they would like to thank all those who took part. The 37 delegates and presenters in attendance at the event initiated a friendly network of like-minded post-graduate students; who plan to get together every year to share research in the fields of machining and manufacturing.
I was very pleased to be invited and to attend the inaugural MachMan conference, which effectively showcased the growing talent and capabilities available in a growing range of faintly supported industrial-EPSRC funded IDCs

Dr Jamie McGourlay
The interesting and diverse keynote speakers included Partnership Manager for Rolls-Royce Plc, Dr Jamie McGourlay, speaking on future trends in Rolls-Royce manufacturing research; NAMRC Head of Metrology, Carl Hitchens, on current applications of metrology in the nuclear industry; Senior University of Sheffield Teacher, Dr Platon Kapranos, provided a talk on the benefits and skills of networking and IMG Project Manager, Chris Greaves, gave us a flavour of what's to come with the new AMRC development Factory 2050.
The presentations covered various doctorate research projects, from dynamics and process monitoring to machining, composites and additive manufacture from students across different doctorate centres. "The organisation, structure and quality of the conference were exemplary and a testament to the dedication of the EngD students involved." said Ian Jeavons, IDC EngD research engineer presented at the event.
As an attendee and a presenter I found the event very well run and professional. It was a useful informal networking event and a great platform for honing my conference presentation skills, with the opportunity for constructive feedback. I will definitely be attending next year's conference.

Ian Jeavons, IDC EngD Research Engineer

Event Presenter
The IDC will be encouraging other catapult centres to host the event in forthcoming years with a view to growing in size as it moves around the UK.
A world top-100 university
We're a world top-100 university renowned for the excellence, impact and distinctiveness of our research-led learning and teaching.