Cold sintering best for decarbonising ceramic manufacturing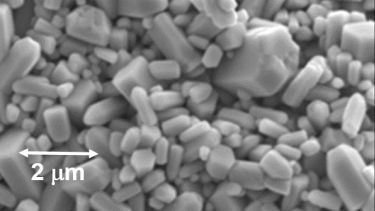 A new paper from Professor Ian Reaney's research group in the Department of Materials Science and Engineering shows that the novel Cold Sintering Process (CSP) is the most cost-effective, low-carbon way of sintering ceramics and its adoption could considerably reduce CO2 emissions and energy consumption for ceramic manufacturers. 
Ceramic products contribute towards a low-carbon future, helping to reduce carbon use in other sectors. Ceramics are used in gas turbines and batteries, as well as for household products like sink basins and bricks. Decarbonising this vital industry by reducing energy use and carbon emissions will have a considerable positive impact on the industrial sector as a whole. 
The ceramics industry is a huge part of the industrial sector, and sintering, the process of heating compacted powder to form a dense solid mass, represents one of the most energy intensive parts of manufacturing.
Professor Reaney, who is also a member of the University of Sheffield's Energy Institute, collaborated with Professor Clive Randall from Pennsylvania State University and Professor Lenny Koh from the University of Sheffield's Management School to conduct a comprehensive analysis of different ways of sintering ceramics, to establish which had the best energy saving potential.
This review showed that CSP offered the greatest potential for decarbonising ceramic manufacturing. The process, for which provisional patents were submitted by Professor Randall in September 2015, typically uses an aqueous medium, at low temperature to densify parts under moderate pressures. CSP is also the most economically beneficial technique, with lower capital costs and a better return on investment.
This is positive news for decarbonisation of the ceramics industry, and Professor Reaney's paper establishes a strong framework for introducing CSP to the manufacturers, so it can realise its full potential and move from laboratory testing to industry use.
Speaking about his findings, Professor Reaney said: 'CSP is a remarkable technique that was first developed at the Pennsylvania State University. Our research however, unambiguously establishes CSP as the go-to densification method in ceramic manufacturing for energy reduction and decarbonisation'.
Professor Randall added, 'The collaboration with Professor Reaney's group at the University of Sheffield has clearly demonstrated that CSP is the way forward for low energy, low carbon ceramic manufacturing'.
Details of the research can be found in the paper published in the Journal of the European Ceramics Society.
Top in the Russell Group
We are the top-ranked Russell Group university for Graduate Prospects in Materials Science and Engineering. (The Times Good University Guide 2020)
Flagship institutes
The University's four flagship institutes bring together our key strengths to tackle global issues, turning interdisciplinary and translational research into real-world solutions.