Damehood for former Sheffield academic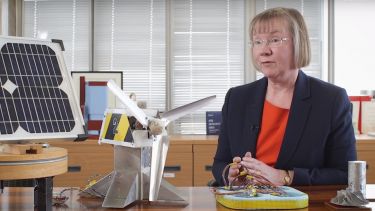 Professor Dame Atkinson joined the Department of Materials Science as a lecturer in 1989, was promoted through to Reader, and moved to Leicester in 2002 for a professorship. Dame Helen joined Cranfield University as Pro-Vice-Chancellor of the School of Aerospace, Transport and Manufacturing in September 2017.
She was made CBE in the Queens New Year's Honours 2014 and is a former Vice President and Fellow of the Royal Academy of Engineering, the highest honour for an engineer in the UK.
Professor Atkinson said: "I am utterly surprised and delighted. This is a huge honour. For someone from my background, with both parents leaving school at 16 and as the first in my family to go to University, this is a most amazing thing.
"I am extremely fortunate to have worked with superb teams all the way through my career. I really want to pay tribute to all those colleagues, particularly the wonderful 'This is Engineering' team at the Academy who have made such an impact and the many dedicated and committed staff at Cranfield University who have worked so hard to serve our students and our industrial partners through the pandemic, building firm foundations for the future."
The full citation issued by Buckingham Palace states:
"Helen Atkinson is one of the UK's foremost engineering leaders. She was appointed Pro-Vice-Chancellor at Cranfield University in 2017, with responsibility for the School of Aerospace, Transport Systems and Manufacturing. She has made a tremendous impact in this role, cultivating key strategic partnerships with major industrial companies.
"She has been a committed Fellow of the Royal Academy of Engineering since 2007, serving variously as Vice President, Trustee and Chair of its Education and Skills Committee between 2012 and 2017. Most recently, she has made a vital impact through chairing the oversight group for the Academy's 'This is Engineering' campaign to encourage more young people into engineering.
"She has had roles with government Foresight Panels, HEFCE, EPSRC, IET, National Council for Universities and Business, and the Strategic Facilities Advisory Board of the Royce Institute. She is a leading role model and advocate for women in STEM. She was the first woman President of the UK Engineering Professors' Council in its 50-year history."