Dr Alice Pyne
MSci, MRes, EngD
Department of Materials Science and Engineering
UKRI/MRC Rutherford Innovation Fellow & Lecturer in Soft Matter/Polymers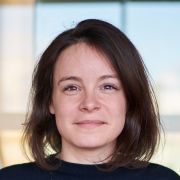 a.l.pyne@sheffield.ac.uk
+44 114 222 5969
Sir Robert Hadfield Building
Full contact details
Dr Alice Pyne
Department of Materials Science and Engineering
Sir Robert Hadfield Building
Mappin Street
Sheffield
S1 3JD

Profile

Alice is an MRC/UKRI Innovation Fellow and Lecturer in Soft Matter/Polymers. Prior to this, she was an independent research fellow at the London Centre for Nanotechnology, UCL working closely with industry to develop high-resolution atomic force microscopy (AFM) technologies, able to resolve variations in the DNA double helix on a single molecule.
Research interests

Alice's expertise is in high-resolution single-molecule studies of DNA. She has achieved unprecedented resolution for single biomolecules in solution through the development of new AFM methods in collaboration with Bruker (CA, USA).

Her research has resulted in both the highest-quality AFM images of the DNA double helix achieved to date, and the first visualisation of variations in the DNA double helix structure on a single molecule.

Alice has exploited these techniques to interrogate DNA interactions, characterising evaluating quadruplex stabilising molecules: a possible class of anticancer therapeutics through single-molecule visualisation of quadruplex formation.
Publications

Journal articles

Chapters

Conference proceedings papers

Software / Code

Datasets

Other
Research group

PhD Students (London Centre for Nanotechnology):

Isabel Bennett

Isabel's research looks to determine the action of novel antimicrobial compounds on live bacterial cells using AFM. During her PhD she has also developed an AFM-based diagnostic tool to detect drug resistance in bacteria.

Kavit Main

Kavit's research uses AFM to gain single-molecule insights into supercoiled DNA-topoisomerase interactions. These insights will facilitate the further development of topoisomerase inhibitors which are currently employed as anti-cancer therapeutic agents.
Grants

Our research is facilitated by the atomic force microscopy (AFM) methods capable of resolving the double-helical structure of single DNA molecules. In addition, we develop quantitative, open-source analysis tools that allow us to exploit our large datasets in order to acquire a unique perspective on biomolecular structure and function. Through close interdisciplinary collaboration with computational scientists, molecular biologists, mathematicians, and biophysicists, this methodology converges to determine how the complexity of DNA structure relates to its biological function.
Teaching activities

MAT360 - Mini guided projects
Professional activities

Specialist lecture at the London International Youth Science Forum (LIYSF) 2019, Imperial College London
Sold out talk at Pint of Science 'Atoms to Galaxies' 2019