Professor Claire Corkhill
PhD Mineralogy and biogeochemistry, MEarthSci Geology (Honours)
Department of Materials Science and Engineering
Chair in Nuclear Material Degradation and EPSRC Early Career Research Fellow and Reader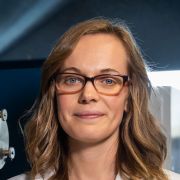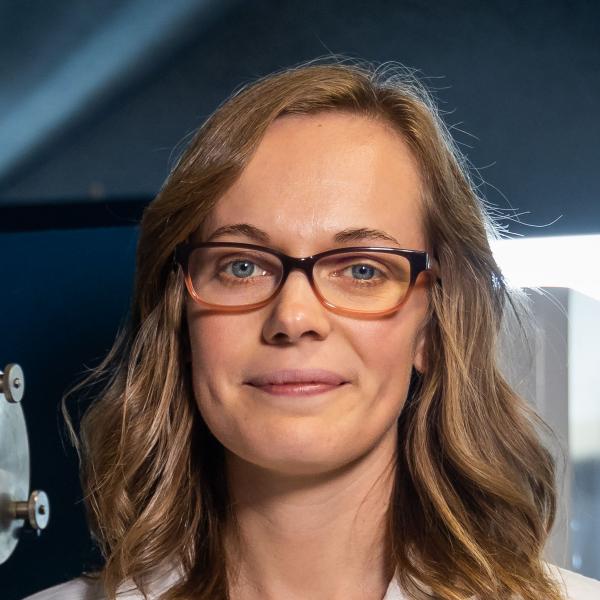 c.corkhill@sheffield.ac.uk
+44 114 222 3632
Sir Robert Hadfield Building
Full contact details
Professor Claire Corkhill
Department of Materials Science and Engineering
Sir Robert Hadfield Building
Mappin Street
Sheffield
S1 3JD

Profile

Claire holds a Chair in nuclear material degradation, working in the Immobilisation Science Laboratory at the University of Sheffield. With a PhD in Geology and research experience in mineral and material dissolution, her research focuses on understanding the long-term evolution of radioactive waste material in disposal environments.

As a member of the Committee on Radioactive Waste Management, she provides independent advice to, and scrutiny of, the UK government's radioactive waste management and disposal policies and practices. 
Research interests

The UK has a significant inventory of nuclear waste (650,000 cubic metres - enough to fill Wembley Stadium), that will be radioactive for over 100,000 years. For this reason, it is necessary to dispose of the waste safely in a final disposal facility, several hundreds of meters below the ground, which is carefully designed to reduce the likelihood of radioactive substances escaping to the environment. It uses a multi-barrier concept, where several layers of containment made from a number of different materials prevent groundwater reaching the waste, preventing the leaching of radioactive substances into the host rock. This concept is called the Engineered Barrier.

Claire's research focuses on understanding and improving the safety functions of this Engineered Barrier. She is interested in understanding how quickly the waste is likely to dissolve if it comes into contact with groundwater, and also how the backfill material helps to prevent the release and transport of radioactive substances to the host rock. Understanding these processes is critical to developing a safe disposal facility, and will also help the design of new, improved materials for the Engineered Barrier.

Claire is currently working in four major areas, which are as follows:

Grain boundaries:
Effect of defect chemistry and microstructure on the corrosion of UO2 fuel and Pu-containing materials. Claire's research team are exploring the role of ceramic and glass/ceramic microstructures on the dissolution kinetics and mechanisms of UO2 and Pu-containing materials, through the study of surface chemistry and the application of in-situ dissolution imaging techniques. One recent focus has been to understand the secondary phase formation on fuel debris from the Fukushima Daiichi nuclear power plant, in support of fuel retrieval operations.

Glass:
State-of-the-art determination of nuclear waste glass durability in sub-surface environments. The role of different geochemical conditions on the dissolution kinetics of a range of simulant nuclear waste glasses are investigated, in particular, hyper-alkaline conditions.

Cement radionuclide interactions:
High-resolution spectroscopic determination of radionuclide – cement interactions. Through the application of sophisticated spatially-resolved synchrotron X-ray techniques, solid-state NMR and thermodynamic modelling, Claire's team is developing kinetic models of radionuclide-cement interactions in geological disposal environments. Claire is leading the world's first long-duration x-ray synchrotron experiment in collaboration with Diamond Light Source, to understand the long-term behaviour of cement over thousands of years.

Plutonium wasteform degradation:
Upon the completion of nuclear fuel reprocessing in the UK, there will be approximately 135 teHM (tonnes-equivalent-heavy-metal) of separated PuO2, stored as a zero value asset at the Sellafield site. One option currently under consideration for the long-term management of this material is disposal in a geological disposal facility. Claire's team are developing titanate ceramic wasteforms and "disposal-MOX" materials as plutonium immobilisation matrices, and are evaluating their degradation by radiation and aqueous media relevant to disposal scenarios.

Current projects

Critical Analysis of Spent Fuel Structure in Radionuclide Release (EPSRC ECR Fellowship)
Long-term Evolution of Candidate Plutonium Wasteforms (Radioactive Waste Management Limited)
PLEIADES (Platform for Long-term Experimental Investigation of Alteration in Disposal Environments and Storage) Facility: Part of the UK National Nuclear User Facility (EPSRC)
HADES (High Active Decommissioning Engineering and Science) Facility Part of the UK National Nuclear User Facility (EPSRC)
Transcend: Transformative Science and Engineering for Decommissioning Research (EPSRC/ Radioactive Waste Management Limited)
ATLANTIC: Accident ToLerANT fuels In reCylcing (EPSRC)
Project GLAD: Glass Leaching Assessment for Durability (US Department of Energy, Office of River Protection)
PREDIS: The pre-disposal management of radioactive waste (EU H2020)
Isolation of 14C species from spent ion exchange resins and their stabilisation, a joint UK-Korea project (EPSRC)
Next Generation Nuclear and GREEN Centres for Doctoral Training (EPSRC)
Publications
Research group

Research team

Dr Clare Thorpe: EPSRC and David Clarke Postdoctoral Research Fellow
Dr Sarah Pepper: PLEIADES Experimental Officer
Dr Amber Mason: RWM plutonium wasteform evolution
Dr Lewis Blackburn: RWM plutonium wasteform evolution
Dr Chris-Dixon Wilkins: TRANSCEND
Dr Ramya Ravikumar: Project GLAD
Dr Ritesh Mohun: Defect chemistry of UO2 fuels
Dr Josh Radford: SIMfuel synthesis and characterisation
Hannah Smith: Doped UO2 fuels (PhD candidate, NGN CDT)
Max Cole:  UO2 grain boundaries (PhD candidate)
Dan Parkes: Characterisation and long-term behaviour of vitrified ILW (PhD candidate, NDA)
Jenny Ayling: Role of groundwater composition on glass dissolution (PhD candidate, NNL)
Rachel Crawford: Effect of canister corrosion products on glass dissolution (PhD candidate, GREEN CDT)
Ishy Aldean: Dissolution of plutonium wasteforms (PhD candidate, GREEN CDT)
Latham Haigh: Radiation effects on plutonium wasteform dissolution (PhD candidate, GREEN CDT)
Dr Daniel Bailey
Dr Laura Gardner
Dr Luke Townsend
Dr Sam Walling
Professional activities and memberships

Member, HM Treasury Energy Working Group of the Green Taxonomy
Materials Theme Lead of the RWM Research Support Office
Member, HM Government Committee on Radioactive Waste Management (CoRWM)
Recipient of the Royal Society of Chemistry Bill Newton Award for Outstanding Contributions to Radiochemistry, 2018.
Recipient of the Geological Society William Smith Fund for Excellence in Applied Geoscience, 2014.
Member of the EPSRC Peer Review Associate College
Member of the Swiss Light Source Panel Review Committee
Associate Editor for the Nature Research journal npj Materials Degradation
Associate Editor for the Mineralogical Magazine Journal
Membership of: Mineralogical Society of Great Britain and Ireland, American Ceramic Society, Society of Glass Technology

Selected media appearances:
Women in Engineering

We interviewed Claire when she was a Vice Chancellor's Research Fellow for the Wall of Women. Here's Claire's video:

The Wall of Women profiles were taken over a 4/5 year time period and are a snapshot of what our engineers were doing at that time.