Dr Nicola Green
PhD FRMS
Bioengineering
Department of Materials Science and Engineering
Senior Lecturer in Bioengineering
Course Director for Bioengineering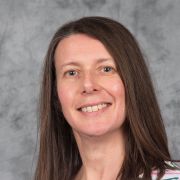 Profile

Nicola is a Senior Lecturer in Bioengineering. She obtained her first degree from the University of Nottingham and her PhD from the University of Kent. She has worked as a Research Fellow at the University of Nottingham, in the Laboratory of Biophysics and Surface Analysis, and as a Senior Scientist in a Nottingham University biomedical spin-off company.

She joined the department in 2006 as a postdoctoral researcher, before taking charge of the Kroto Imaging Facility as Experimental Officer in 2010. She was appointed as Lecturer in Bioengineering in 2019 and Senior Lecturer in 2022.
Qualifications

1998 PhD – Biotechnology, University of Kent

1992 – BSc Hons Biochemistry and Genetics, Nottingham University
Research interests

Nicola's interdisciplinary research focuses biomaterials and tissue engineering. Her portfolio can be divided into three key areas

Biohybrid scaffolds for tissue engineering: Scaffolds which incorporate biological components into synthetic scaffolds combine benefits from both and have significant clinical potential. This research seeks to optimise the composition and manufacture of these scaffolds to create tuneable scaffolds with enhanced cellular responses and reduced immunogenicity.

Improved in vitro models: The development and use of in vitro 3D models for improved drug discovery and to more reliably model disease progression including cancer invasion and metastasis, wound healing, and the musculoskeletal system.

Imaging of biomaterials and tissues: Development and application of non-invasive imagine techniques to better characterise biomaterials and the cellular response.
Publications

Journal articles

Chapters

Conference proceedings papers
Research group

PhD students

Main Supervisor

Jeerawan Thanarak
Meghna Suvarna

Co-supervisor

Samuel Higginbotham
Tugba Cebe
Alice Hann
Boyang Liu
Abigail Smith
Mina Aleemardani
Jonathan Hinchliffe
Caitlin Jackson
Grants

Multi-materials additive manufacturing for musculoskeletal applications (principal investigator, Royal Society International Exchanges, £12,000)
Reversing skin contraction in paediatric burns patients (co-investigator, Sheffield Hospitals Charity, £426,288)
Transforming metalorganic frameworks promoted bone regeneration through secondary electron hyperspectral imaging (co-investigator, Newton Mobility Grant, £11,930)
Teaching interests

Nicola contributes to learning and teaching within the Department of Materials Science and Engineering and the Faculty of Engineering. She teaches on a number of modules based on her research interests which are taken by both Bioengineering in Interdisciplinary Engineering, and Materials Science and Engineering students.
Teaching activities

Biology and Chemistry of Living Systems II (MAT2530)
Bioimaging (MAT408/6311, Module lead) - fourth year/MSc module.

She also is module lead for BIE103 and BIE201, two courses taken by Bioengineering students which demonstrate the breadth of the Bioengineering field and introduce students to key technical, practical and professional skills within Bioengineering.