Dr Nicola Green
PhD FRMS
Department of Materials Science and Engineering
Lecturer in Bioengineering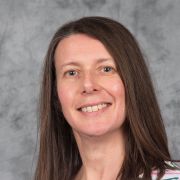 Profile

Nicola is a Lecturer in Bioengineering. She obtained her first degree from the University of Nottingham and her PhD from the University of Kent. She has worked as a Research Fellow at the University of Nottingham, in the Laboratory of Biophysics and Surface Analysis, and as a Senior Scientist in a Nottingham University biomedical spin-off company.

She joined the department in 2006 as a postdoctoral researcher, working with Prof Sheila MacNeil on the development of a tissue-engineered model of the human oesophageal mucosa, before taking charge of the Kroto Imaging Facility as Experimental Officer in 2010. She was appointed as Research Fellow in 2014 and Lecturer in Bioengineering in 2019.

She has been Admissions Tutor for Bioengineering since 2017 and continues to support the Imaging Facility.
Qualifications

1998 PhD – Biotechnology, University of Kent

1992 – BSc Hons Biochemistry and Genetics, Nottingham University
Research interests

Nicola's interdisciplinary research focuses on tissue engineering of soft tissues, with particular emphasis upon the oesophagus, for both translation to the clinic and as more biologically-relevant experimental models for use in the laboratory.

She also has interests in developing novel imaging methods and applying established imaging techniques to the field of tissue engineering, for improved characterization of cell growth and behaviour in 3D cultures throughout the culture period.

Current research projects include the use of novel DNA probes for imaging cells and the use of second-harmonic generation imaging collagen formation in tissue-engineered constructs.

Oeosphageal cancer/ Barrett's Oeosphagus
Tissue Engineering
Bioimaging
Publications

Journal articles

Chapters

Conference proceedings papers
Research group

Main Supervisor (PhD Student)

Jeerawan Thanarak (PhD Student)

Co-supervisor (PhD Students)

Samuel Higginbotham
Nicholas Farr
Tugba Cebe
Alice Hann
Boyang Liu
Abigail Smith

MSc Students

Amber Cairney-Witter
Jonathan Hinchliffe

Undergraduate Project Students

Eleanor Pressdee
Changhavi Ragurajan
Ella Ball
Isobel May-Smith
Jillian Hoderial
Christoforos Savvidis
Grants

Multi-materials additive manufacturing for musculoskeletal applications (principal investigator, Royal Society International Exchanges, £12,000)
Reversing skin contraction in paediatric burns patients (co-investigator, Sheffield Hospitals Charity, £426,288)
Transforming metalorganic frameworks promoted bone regeneration through secondary electron hyperspectral imaging (co-investigator, Newton Mobility Grant, £11,930)
Teaching interests

Nicola contributes to learning and teaching within the Department of Materials Science and Engineering and the Faculty of Engineering. She teaches on a number of modules based on her research interests which are taken by both Bioengineering in Interdisciplinary Engineering, and Materials Science and Engineering students.
Teaching activities

Biology and Chemistry of Living Systems I (MAT1520, Module lead)
Biology and Chemistry of Living Systems II (MAT2530)
Bioimaging (MAT408/6311, Module lead) - fourth year/MSc module.

She also is module lead for BIE103 and BIE201, two courses taken by Bioengineering students which aim to demonstrate the breadth of the Bioengineering field and introduce students to key technical and professional skills within Bioengineering.