Dr Ian Ross
Department of Materials Science and Engineering
Electron Microscopy Facility Manager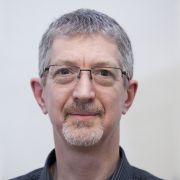 Profile

With a background in chemical and ceramic manufacturing, gaining Grad-I-Ceram in 1991, Ian received his MSc (Eng.) and PhD in Materials Science from the University of Liverpool in 1994 and 1998 respectively. His PhD, in collaboration with Unilever Research, focused on the application of high resolution electron microscopy to study the evolution of optically active nano-materials. Following his PhD, he moved to the University of Southampton, developing the use of microscopy and optical spectroscopy to characterise natural composites and fibres.

Ian joined the University of Sheffield in 1999 as a Postdoctoral researcher within the Department of Materials Science and Engineering and from 2009 as a Senior Experimental Officer in the Department of Electronic and Electrical Engineering. In 2018 he returned to the Department of Materials Science and Engineering when appointed Facility Manager of the Sorby Centre for Electron Microscopy.
Research interests

The application of advanced electron microscopy, including aberration corrected TEM/STEM and associated analysis, to the study of:

Complex interfaces, thin films and semiconductor materials.
Engineering ceramics, oxide layers and metal-hybrid nano-structures.
Durability of novel protective surface coatings.
Natural bio-composites and fibres.
Publications

Journal articles

Chapters

Conference proceedings papers