Global Engineering Challenge
The engineering challenges of the 21st century require skills in problem-solving, design, teamwork, communication and global awareness, as well as technical knowledge.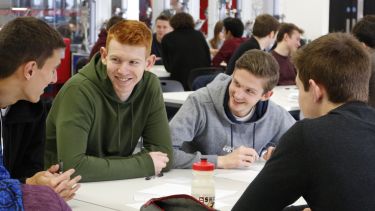 The Sheffield University Global Engineering Challenge Week aims to introduce and develop these transferable skills. All first-year students in the Engineering Faculty tackle real-world problems from a global perspective:
What challenges will you face as a professional engineer?
How will your decisions impact the people around you and throughout the world?
How will you promote and defend your projects?
In an increasingly international industry, you'll be the kind of engineer that employers value highly. We'll challenge you to think about not only the technical issues in engineering developments but also the social, ethical and environmental implications of your decisions - the kind of thinking to equip you for a career with impact-shaping and improving the world we live in.
Engineers Without Borders
The project is based on the 'Engineers Without Borders' Challenge, a national competition for engineering undergraduates. Working in teams, you'll find a solution to a real-life engineering problem faced by developing communities.
At the end of the challenge, you'll present your ideas, showing that you've considered the social, environmental and economic impacts. You could find yourself researching alternative fuel sources for a small community in India or designing new water and sanitation systems. You will: 
Learn about sustainability, project management and professional practices.
Develop your personal effectiveness in team working, communication, giving and using feedback, and reviewing your own skills.
Meet and learn from recent engineering graduates.
Have a fantastic opportunity to develop and showcase skills you can later use to impress prospective employers.
Make new friends!
You'll also benefit from feedback by people from industry - often University of Sheffield graduates - who'll share their own skills and expertise to help you develop the best solution to a problem. These alumni will also provide feedback in the 'Board Room' on elements of your group's teamwork and project planning.
All these skills make you an asset to any employer. You'll also grow in confidence, learning more about your own strengths and which areas interest you.