I've had some amazing opportunities to do such amazing things

Sanchari Das
International Engineering Ambassador
BEng Materials Science and Engineering
After moving to Sheffield, Sanchari, who grew up in Kolkata, India, became an International Student Ambassador for the Faculty of Engineering.
Why did you choose to study Materials Science and Engineering?
I've always loved Physics and Chemistry and I wanted a subject which had a combination of both but would also help me to solve real-world problems. Materials Science and Engineering seemed like the perfect option to me based on that.
I have a myriad of reasons why I chose to study at The University of Sheffield. Firstly, the department is closely integrated with leading industries and I thought that would really be helpful for me. It would give me an insight into real-world applications and how everything actually works in industry.
Secondly, the staff-student ratio is 1:2 which meant there would be more interaction with academics and I would be able to get more help. Thirdly, when I checked the statistics I saw that there was 100% employment of the graduates from my department in the year before I joined, which was a great incentive for me. Lastly, the city itself. Sheffield is such a friendly, green, safe and cheap city.
What have you enjoyed most about your course so far?
What I love about my course is how it is applicable to literally any aspect of engineering. It's quite flexible in terms of future career options. It has multiple pathways and we explored most of it in our first year, which was really helpful for me since I wasn't really sure which aspect of materials science I like the most. We usually had talks or workshops from employees of companies like Rolls Royce and Land Rover or networking events where we had a chance to get to know what it's like to work in different fields related mostly to Materials Science or otherwise.

My favourite thing about my course so far would have to be this project where we worked on Nuclear Materials for a real-world company named Sellafield and presented our solution to them on one of the most troubling issues in the Nuclear Industry. We worked on that project for 12 weeks and collaborated with the staff members from the company which gave me loads of exposure into seeing how a company of that scale functions.
Besides that, I've had lab sessions where I made materials like glass completely from scratch, wearing a boiler suit and fire proof gloves which was pretty scary and exciting at the same time.
We also had a Skills Week where I got the chance to visit Guardian Glass which is one of the world's largest manufacturers of some glass products. I was awestruck seeing all the procedures and the magnitude of the processing. I learnt a lot from it and it inspired me to do further research on glass.
Since the time I've come here, I've had some amazing opportunities to do such amazing things that I never thought I would have done back home, if I hadn't stepped out of my comfort zone.

Sanchari Das

Materials Science and Engineering Graduate
What do you think about Sheffield as a city?
The best thing about living in Sheffield is that it's a student city and there are people here from literally all over the world which helped me learn so much about all the different cultures. I get to meet so many different kinds of people every day and that's something I really value because I love talking to people. Studying in Sheffield has personally made me a more confident and independent person which really helped me in my overall growth as a person.

Also, student vouchers!! We have so many students here that every place has some sort of a student discount which makes it a very affordable place to live in. And not to forget, the Peak District. You just have to travel for 20 minutes by taking one of the city buses to go to the one of the most beautiful national parks in UK.
Have you got any particular academic achievements or extra-curricular achievements you'd like to highlight?
Academically, I've been a part of multiple projects which helped me enhance my skills and understand the importance of team working and networking in order to secure funding for our projects. Since I love space and everything related to it, I've been a part of a project named SunbYte where we made an autonomous telescope to take solar images by putting it on a hot air balloon. I can't even begin to comprehend the amount of technical and managerial knowledge I've learned from this project. This project has had associations with NASA and ESA in the previous years and this year we are going to lift the payload off from the Swedish Space Centre.
I'm a part of the Dance society and I decided to join them since I've always loved dancing. They have various genres under them but I particularly attend sessions and compete in the Hip Hop and Contemporary categories.
Besides that, I'm also a part of the Indian Society through which I've participated in Bollywood Dance competitions nationally.
What are your ambitions for the next few years?
I would ideally want to work with Aerospace materials in the future, so in the Aerospace or Space Technology sector. I have been gaining more and more interest in this field and I feel like at least for the next years, I would like to explore that more and contribute my skills and knowledge in innovating and developing new ideas.
What would you you say to A Level students if they are considering studying engineering at University?
It will change your life. Since the time I've come here, I've had some amazing opportunities to do such amazing things that I never thought I would have done back home, if I hadn't stepped out of my comfort zone. I've grown immensely, both academically and personally. But before coming here, I'd advise everyone to go through the course structure and all the information available because ultimately, you'd have to love what you're studying in order to succeed in your chosen career path. If you really love engineering, then Sheffield is limitless in providing you with the usefulness of the different applications of what we learn here in various engineering subjects.
Top in the Russell Group
We are the top-ranked Russell Group university for Graduate Prospects in Materials Science and Engineering. (The Times Good University Guide 2020)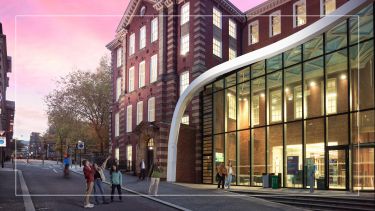 Visit us
Discover what sets Sheffield apart at our undergraduate open days on the Saturday 21 October or Saturday 18 November.