Distance learning courses in statistics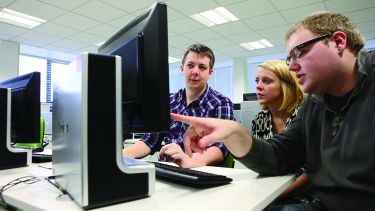 In an era that is more data driven than ever before, with computers collecting and generating data every second of every day, the demand for statisticians is high.
Graduates who can gather and analyse data and translate it into meaningful recommendations to help organisations run more efficiently, are highly sought after in many sectors including healthcare, technology, government and manufacturing. 
The University of Sheffield runs a number of MSc courses in statistics, which can be done via distance learning over two or three years. They attract students from across the world who are often already in roles that deal with data, and want to give their career in statistics the best possible opportunity to progress.
Michelle Foster is a Senior Biostatistician at Smith & Nephew, studying on the MSc in Statistics as a part time distance learning course over three years. 
The flexibility of being able to study the masters over three years was a huge advantage for me.

Having studied at Sheffield for my undergraduate degree in mathematics, I knew that the quality of teaching was very good.

Distance learning allows you to fit your studying in around work. I work full time and enjoy seeing friends at weekends so distance learning is perfect for me as I can study at a time that suits me, wherever I am.

It is also a good opportunity to gain work experience whilst studying, so I will have three years experience working as a statistician as well as the qualification at the end of it, giving me the best chance at progressing my career.

I am very fortunate to already be a senior statistician, but I am aware that a lot of companies require a masters in statistics as a minimum, regardless of work experience. This course will provide me with more opportunities going forwards.

Michelle Foster

Senior Biostatistician at Smith & Nephew
Students learn the theories behind statistical techniques and concepts, including linear and generalised linear modelling, and how to apply their knowledge in real world scenarios.
The courses help students develop many transferable skills including planning and researching, data acquisition, problem specification, analysis and reporting findings. 
Students also complete a major research project – distance learners often come with problems set by their employer, so they can take their findings back to their workplace and help to improve products and services.
Head of the School of Mathemaics and Statistics, Professor Jeremey Oakley, is one of the course leaders, as well as a researcher who helps major companies bring statistical tools into their decision making.
"Many of our students are working at the same time as studying so flexibility is key," he said.
"Typically, our distance learning students are already in careers where they are using statistics, but want to improve their statistical knowledge. The distance learning MSc gives them a means to do that. There are lots of online resources and mini courses available, but these tend to be concise, so don't go into the depth you would get on any of our modules.
"The courses attract academics and researchers in different disciplines across the world. The pharmaceutical industry and NHS is probably the biggest single sector where our students are working. 
"Our MSc is also accredited by the Royal Statistical Society. There aren't many distance learning programmes with this accreditation."
Shravan Vasishth, a professor of linguistics at the University of Potsdam in Germany, studied the Graduate Certificate in Statistics to get a better understanding of statistical theory before going on to do the MSc in Statistics to gain more practical experience relevant to his research work.
The three year distance MSc program at Sheffield is outstanding.

​​​​I highly recommend it to anyone wanting to acquire a good, basic understanding of statistical theory and inference.

This MSc program is very valuable for someone willing to work hard on their own, with rather variable amounts of guidance from the instructors. It provides a lot of good-quality structure, and it allows you to check your understanding objectively by way of exams.

Prof Shravan Vasishth

Professor of linguistics, University of Potsdam, Germany

Course information:
The University of Sheffield offers three distance learning courses in statistics:
There is also a PG Certificate in Statistics, which is ideal for those who don't have all the background knowledge for a masters degree in statistics. Students who perform well on this part-time distance learning programme can progress on to the MSc in Statistics, or Statistics with Medical Applications.
Masters courses in Mathematics and Statistics.
Find a postgraduate course
A masters from Sheffield means in-depth knowledge, advanced skills and the confidence to achieve your ambitions.