LGBT+ group for Sheffield maths students launched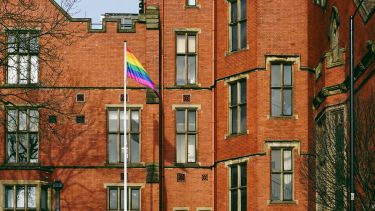 In Autumn 2020, the School of Mathematics and Statistics founded a new LGBT+ student group. This is a place for LGBT+ students in the mathematical sciences to come together (virtually, for now) to explore challenges they face or may face at university. In addition to a support network, this group gives LGBT+ students in the School an environment to fully be themselves as well as the opportunity to attend regular social activities.
The group was founded by Dr Mark Yarrow, who came to the University of Sheffield as a PhD student in 2015 and became a permanent member of staff in summer 2020. As well as teaching courses on probability, Mark's primary role is as the Executive Editor for the Applied Probability Trust, a charity that facilitates the publishing of research in the area of applied probability via two world leading journals, Advances in Applied Probability and the Journal of Applied Probability. The APT has been based in the School of Mathematics and Statistics since its creation in the 1960s. In addition to the work Mark undertakes in the School, he also co-chairs the University's Staff LGBT+ Network.
Students who are interested in joining the group can look out for an email from Mark at the start of each semester or email him for more details. For LGBT+ History Month, we asked Mark a few questions about this new group. 
---
What made you decide to set up the LGBT+ student group?
At age 17, I remember searching for a university to apply to, I personally put a large weighting on the institutional LGBT+ footprint. Similar to how a student might want a top sports facility to train in, I wanted the university I attended to have excellent attitudes towards LGBT+ people to ensure I would be safe being who I am. As a new member of staff in the School of Mathematics and Statistics, I wanted to set up a group which I would have liked to join when I was an undergraduate at a different institution. 
How is it going so far? What sort of things have you been doing?
Due to the pandemic, all activities have been online. Currently I organise fortnightly online 'coffee' chats throughout the semester. I send out a monthly newsletter containing jobs and further study information, details about local and global mathematics seminars (often with an LGBT+ twist, such as the LGBTSteminar), and deadlines and information on summer internship schemes such as the University's SURE scheme, the School's UGRI program and the London Mathematics Societies' undergraduate research bursary initiative. In addition, I use these newsletters as a method of communication and to reinforce that I operate an open-door policy for students who wish to speak to me in confidence.
What do you want the LGBT+ student group to accomplish in the longer term?
Sheffield's School of Mathematics and Statistics and the wider University in general is a wonderfully inclusive and welcoming environment for everyone who works and studies here. I would like more students to feel comfortable to be themselves in what is effectively their place of work for a sizable portion of their early adult life. In May each year, the School hosts an activity to celebrate women in mathematics. I would like to see a similar activity, maybe at the Faculty of Science level, celebrating LGBT+ people in science.
Why is it important for a maths department to have a group like this?
The staff in the School of Mathematics and Statistics are committed to facilitating an inclusive and welcoming environment for all who enjoy the mathematical sciences. I believe that visibility is key to ensuring this goal is met. I make a point to not hide any part of who I am because I think it is important for all students to see out and proud LGBT+ members of staff just as it is important to see diversity in other areas such as ethnicity, gender and disability. It is now common to have other support groups, such as for female early career researchers and other peer support networks. It is less common to see LGBT+ groups like the one we have set up in the School. I do hope groups like this become more common over the next decade at other institutions. I set up this group because I for one would much rather Sheffield be leading than following on important initiatives like these.