Undergraduate student publishes research in top academic journals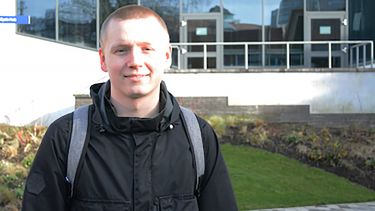 A student in the School of Mathematics and Statistics has published his second paper in the leading journal in his field – all before completing his undergraduate degree.
Will Oxley is in the final year of his MMath Mathematics course and over the last two years has completed summer research projects alongside members of our staff.
In 2018, Will worked with Dr Eun-jin Kim (now Professor at Coventry University) on scalings and fractals in information geometry, which led to a paper in the Institute of Physics' Journal of Statistical Mechanics: Theory and Experiment.
His second paper has now been published in another IOP publication, The Astrophysical Journal, as a result of work he completed last summer with Professor Robertus Erdélyi in our Solar Physics and Space Plasma Research Centre.
Will said: "I feel incredibly proud of myself for the hard work I have put in, and I'm happy that it has led to some success already. I am also excited as we have another work in progress that is nearly finished, and I hope this will be as successful.
"The recent publication along with my first published paper from my summer project, are important accolades that will impact my future through the skills I have learned as well as their importance as stand-alone achievements."
The most recent project focussed on magnetohydrodynamic waves and their properties within asymmetric magnetic slabs. It was completed as part of the University of Sheffield's SURE scheme, one of several summer research opportunities that Sheffield mathematics and statistics student can apply for.
Will was tasked with completing background research, following derivations to build on the existing work and analysing a newly identified problem. He learned basic programming skills in Python to produce illustrations of solutions, which were written up alongside explanations and a discussion of the findings.
Will said: "Even though I'm studying maths, my interests have always leaned towards maths with important physical applications. In my opinion, solar physics is an exciting and important branch of physics, as the sun is the closest star to us, and the only star available to us for making observations.
"I feel extremely grateful for the opportunities I have received, and I am incredibly thankful to both Professor Kim and Professor Erdélyi. Finding out my work was going to be published in the leading journal for astrophysics research was really exciting, and I definitely felt a sense of pride."
---
Update – November 2020
Since we first published this story, Will has had a third paper based on his undergraduate research published in the Astrophysical Journal, and a fourth has been accepted for publication. He's now working on his PhD at the University of Cambridge.
Read Will's latest paper: Standing MHD Waves in a Magnetic Slab Embedded in an Asymmetric Magnetic Plasma Environment: Surface Waves
A global reputation
Sheffield is a research university with a global reputation for excellence. We're a member of the Russell Group: one of the 24 leading UK universities for research and teaching.