Mathematics and statistics graduates are essential to the world's economy, particularly in the age of big data.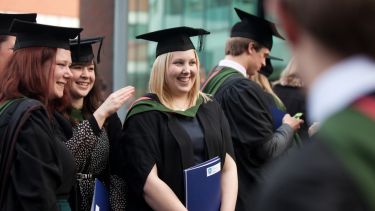 Many of our students go on to apply their numerical skills in the financial sector, but there are a growing number of other industries that need graduates with the ability to process and analyse large data sets, solve problems with mathematical precision and make informed decisions by interpreting figures.
Sheffield maths graduates are often recruited by leading graduate employers such as PriceWaterhouseCoopers, KPMG and Deloitte, going on to successful careers in finance, accounting, tax, pensions, insurance and actuarial work.
---
Effective data management is becoming of critical importance as the amount of data collected and stored, as well as the ability to analyse this data, increases.

The future of work: jobs and skills in 2030

Uk commission for employment and skills
---
Others work in IT, for employers ranging from the BBC to the Ministry of Defence. Some work for organisations that manage large amounts of data, such as the NHS, or develop their specialist skills at postgraduate level.
---
Student stories
---
Support while you study
As a mathematics and statistics student, you'll get lots of support to help you work out what you want to do after graduation, and the steps you need to take to get there.
Our undergraduate students can take a module dedicated to career development skills, which covers researching careers and employers, CV and report writing, presentations, and interview techniques, as well as tips and insights to help students secure mathematics-based jobs.
The University's Careers Service runs workshops on CV and application writing, job hunting and preparing for interviews. They offer tips tailored to mathematics and statistics students, events where you can meet employers, and opportunities to get work experience while you study.
Schemes such as the 301 Academic Skills Certificate will help you show employers that you're ready for the world of work. The Careers Service will continue to support you for three years after you graduate.