When new students join the School of Mathematics and Statistics, we want them to feel part of a community. On this page you can find out about some of the activities that bring our students and staff together.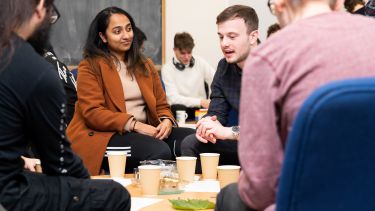 Solving puzzles
Mathematicians love solving puzzles. In our annual undergraduate challenge, teams of students spend two weeks working on interesting maths problems set by our staff. We're always impressed with the clever and entertaining approaches that students take to reach their solutions.
Our students and staff have also created lots of puzzles that have been read out on BBC Radio 4, in the station's Puzzle For Today slot.
---
Pizza lectures
These sessions combine two of our favourite things: maths and pizza. Our mathematicians lead informal seminars on interesting and unusual topics, while students discuss and solve problems over a few slices.
---
Sheffield University Mathematics Society
Our student society, SUMS, organise a range of activities throughout the academic year, from charity fundraisers to nights out. They're also a great source of peer-to-peer support.
---
LGBT+ Student Group
We provide a dedicated space for LGBT+ students in the mathematical sciences to come together and discuss challenges they face or may face at university in a safe environment.
---
Sheffield Space Initiative
Sheffield Space Initiative gives science, engineering and mathematics students the chance to get involved in lots of projects, from building balloon telescopes to study the sun to designing a Mars rover. Maths students have played a big role in group's rocket launches in the USA.
Explore the University
Discover why Sheffield is the right choice for you at one of our open days or events.