100 years of Mechanical Engineering at the University of Sheffield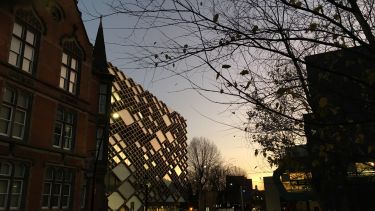 On 15th December 1916, it was decided that the Faculty of Applied Science would split into two faculties; the Faculty of Metallurgy and the Faculty of Engineering. On 21st June 1917, the Department of Mechanical Engineering was born at the first meeting of the Faculty.
We have seen a lot of change over those hundred years, from new people to new buildings, new technology and new ideas.
When the Department opened we had a mere 6 academic staff, all men, now, 100 years later, we have over 60 academics, with the first woman (Dr Rachel Tomlinson) joining us in 1998. Our first Professor was Walter Greenwood and the first head of Department was William Ripper.
It has been a century of growth which has led to an extension to the original Mappin building in 1955, moves out to new buildings at Garden Street, the Arts Tower and even all the way out to Beighton, state of the art labs in Pam Liversidge and of course, our latest asset, the Diamond.
The Department has shown itself to be adaptable to industrial needs, particularly during the first and second World Wars. In the First World War, we trained 1000 men to make shells and later produced aircraft and gun components and trained hundreds of munitions workers, many of them women, in the Second World War.
There are a lot of memories in these walls and we are looking to you, our staff, students and alumni, to share your best memories of Mechanical Engineering at Sheffield. If you'd like to tell your story, or share photos, please contact me-centenary@sheffield.ac.uk
A global reputation
Sheffield is a research university with a global reputation for excellence. We're a member of the Russell Group: one of the 24 leading UK universities for research and teaching.