Department of Mechanical Engineering helps Year 10 engineers gain traction with 3D Printing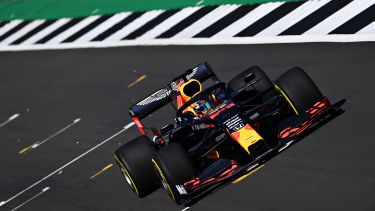 F1 in Schools is the only global multi-disciplinary challenge where teams of students aged 9 to 19 deploy CAD/CAM software to collaborate, design, analyse, manufacture, test, and then race miniature compressed air powered cars made from F1 model block.
---
We were really pleased to support this project, the team's enthusiasm for the competition and exploring 3D printing as a manufacturing method was fantastic.

Dr Candice Majewski

Lecturer
---
The challenge inspires students to learn about physics, aerodynamics, design and manufacturing, as well as branding, graphics, marketing, leadership, teamwork, media skills and financial strategy. They then apply this knowledge in a practical, competitive and exciting way through their car designs.
Team Hyper Speed Racing, one of two teams from Bradfield School taking part in the challenge, got in touch with the University of Sheffield after designing their F1 car to utilise 3D printing as a manufacturing method for the wheels and wings. As key components of the car design, they wanted to ensure that the 3D printed parts were robust enough for competition and so contacted us to see if we could help with their manufacture.
After hearing about the competition and the pupils' interest in using 3D printing, 3D Printing expert Dr Candice Majewski and her team from the Department of Mechanical Engineering were delighted to help Hyper Speed Racing out with a set of wheels and wings.
"It's great to have the opportunity to support projects like this as it is really important to encourage our young people to explore and understand engineering and the options it can offer for future careers.
"We hope that the members of Team Hyper Speed Racing enjoyed working towards the competition and continue their interest in design and engineering."
Using industry-standard Laser Sintering equipment based in the University of Sheffield's Advanced Polymer Sintering laboratory, the printed wheels and wings allowed the team to fully complete and manufacture their design in time for the regional competition in York.
This meant that after all their hard work, the team were able to join other pupils from across Yorkshire and Humberside to present and race their designs, with some teams honing their designs over a number of years. As Team Captain, Zac, explains:
"The school was offering the project as an extracurricular activity and, as a GCSE Engineering student, I decided to get involved – it's been really great fun making and racing the car, as well as learning other skills such as financial management and marketing. We also had the opportunity to work with local businesses to learn more about manufacturing which was really interesting.
---
This is our team's first ever year competing in F1 in Schools and so we're thrilled to have made it through to the regional finals!"

Zac

Team Captain
---
After a fantastic day at the regional competition, the Hyper Speed Racing team did not progress to the national finals, but the experience has been an invaluable one for all of the members and further sparked their interest in engineering and design manufacturing.
They are hoping to work on their design and re-enter the competition next year and also look forward to cheering on their fellow Bradfield teammates – Team SHEFF1 Racing – following their successful competition and progression to the UK finals at Silverstone later in 2019.
Well done to all of the pupils involved!
The Faculty of Engineering at the University of Sheffield, including the Department of Mechanical Engineering, undertake a variety of outreach and widening participation activity to help and support young people and schools to explore engineering as a future study and career path.
If you would like to volunteer to support outreach activity or know a young person or school that would benefit from finding out more about what we do, please contact Widening Participation Officer for the Faculty of Engineering, Dr Charis Bronze, via c.bronze@sheffield.ac.uk for more information.
A global reputation
Sheffield is a research university with a global reputation for excellence. We're a member of the Russell Group: one of the 24 leading UK universities for research and teaching.