The International Engineering Experience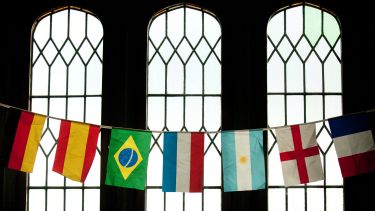 Choosing where and what to study at university is a big deal, with a multitude of subjects and places to choose from. Now imagine wanting to study for an engineering degree on the other side of the world as an international student. What type of engineering degree will be the one for you? Where do you study it? Who and what will be there when you arrive? What do you pack?
These are the kinds of questions international students exploring their study options will be asking, and here at Sheffield, they are questions our amazing team of International Engineering Ambassadors (IEA's) help to answer.
Our International Engineering Ambassador scheme was first established six years ago, with a cohort of 20 international students, representing each of our departments in the Faculty of Engineering. The main purpose behind the scheme was to help and support prospective students in their decision-making, with IEA's offering the benefit of their first hand experiences as international students already living and studying in Sheffield.
---
I enjoy inspiring prospective students to pursue a challenge, and also a very satisfying engineering career. I want to share my experiences of studying Mechanical Engineering, particularly the practical side of my course, which I really enjoy. All of the labs, projects, assignments with the real-life contexts and extra-curricular activities have helped me to gain experience and grow as an engineer."

Michal Stepkiewicz

2nd Year Mechanical Engineering Student from Poland and IEA
---
Since then, the scheme has come on leaps and bounds, now boasting an impressive 72 student members. These are students with a diverse range of experiences, knowledge and interests who have established a wonderful community as IEA's, developing strong friendships and collaborations along the way.
So what do they get up to? One of the main activities for our IEA's is working at various University events. This includes our open days, where prospective students - whether home or international – can chat with IEA's about their courses, accommodation and the extra-curricular activities they're involved in.
IEA's also take their experiences back home, visiting their old schools to share their passion for engineering and inspiring a new generation of future engineers. Last year alone, the IEA's collectively spoke to over 2000 students at talks like this - from Kenya, to Greece, India, UAE, Italy and more.
---
I love influencing prospective students by sharing my experiences of studying engineering at the University of Sheffield. It is a great way of bringing more people to this amazing community we have. I really enjoy the freedom that comes with pursuing mechanical engineering. The learning in the course can be applied to so many sectors such as aerospace, automotive, biomedical, energy, materials and more."

Vamesh Jajoo

4th Year Mechanical Engineering Student from India and IEA
---
Alongside events and talks, the IEA's also run a blog for prospective students. Here they share what inspired them to pursue engineering, as well as what they enjoy outside of their studies in Sheffield. From blogs on the Sheffield Students' Union and summer placements, to interviews with alumni and stories on the best places to eat in the city, it's another way IEA's are giving prospective students a taste for what student life is like here in Sheffield.
So as you can see, they are very busy and committed students! But for me, the best thing about our IEA's is the passion they have for their courses, the University and also the city of Sheffield – and their enthusiasm is infectious!
A global reputation
Sheffield is a research university with a global reputation for excellence. We're a member of the Russell Group: one of the 24 leading UK universities for research and teaching.