Mechanical Services Team respond to urgent request from Sheffield hospital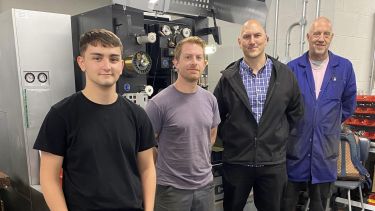 Engineering technicians from our Department of Mechanical Engineering's Mechanical Services Team recently responded to an urgent request from Sheffield's Royal Hallamshire Hospital to re-engineer a damaged part for important medical equipment used to process high volume of patient blood and urine samples.
The part was attached to a pre-analytical piece of equipment, designed to speed up the analysis of samples by providing the ability to split samples (aliquots), enabling a single sample to be analysed in multiple locations for different tests simultaneously. For example, it enables the hospital to measure urine creatinine and hCG as a tumour marker at the same time, as splitting the sample means that neither test is holding up the other. The equipment also enables the creation of stable aliquots for samples that need to be frozen, as the hospital can't freeze samples that contain blood cells. The system enables them to create aliquots that can be used and then sent away to other hospitals for analysis.
When the part broke, we lost our capability to make these aliquots using automation, which is the equivalent to the work of 4 medical laboratory assistants, so we had to revert to a manual process. This put a strain on resources and although we have rigorous processes in place to ensure continuity of patient care, we did lose the fast turnaround times that the equipment usually provides us with.

Iftikhar Ali

Senior Biomedical Scientist at the Royal Hallamshire Hospital
The hospital did not have access to a replacement part and the original equipment manufacturer is based in Japan, which would have meant a long lead time to replace the damaged part.
Our Mechanical Services Team, which includes Engineering Team Leader, Gareth Barker, along with Senior Engineering  Technicians, David Webster and Matt Kirkland, and Engineering Technician, Myles Scholefield, responded to the challenge and engineered a replacement part within 2 days.
Phillip Pickstock,Departmental Technical Manager, commented "I was determined to support the NHS and had full confidence that my team of highly skilled technicians would provide a solution."
Gareth Barker added: "We were delighted to be able to help the hospital by making sure that there was minimal disruption to equipment downtime, ensuring samples could once again be analysed as quickly as possible to enable the fastest diagnosis and subsequent treatment for patients."
Flagship institutes
The University's four flagship institutes bring together our key strengths to tackle global issues, turning interdisciplinary and translational research into real-world solutions.