New energy storage technology in homes could cut energy bills and help reach net zero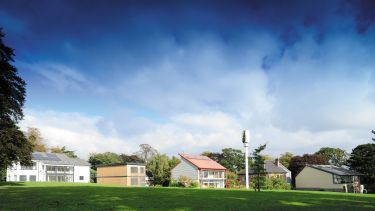 University of Sheffield researchers are leading a new £2.6m project to accelerate the commercialisation of new thermal energy storage technology - systems to store heat for hot water and heating 
New technology can store excess heat generated when renewables - such as solar and wind - are in abundance so it can be used for hot water and heating at peak times when demand for energy is high
Thermal energy storage technology has the potential to cut rising energy bills and contribute to the UK achieving net zero
Project is trialling the new technology in homes in Nottingham 
New energy storage technology that can store excess heat to provide hot water and heating at peak times - to help households save money on their energy bills - is being trialled in a project led by researchers at the University of Sheffield. 
In a £2.6 million project, researchers from Sheffield's Department of Mechanical Engineering in collaboration with Loughborough University, the University of Nottingham, and Mixergy - the market leader in innovative, grid-connected hot water storage - are aiming to commercialise new thermal energy storage technology. 
The Advanced Distributed Storage for grid Benefit project is funded by the Department for Business, Energy and Industrial Strategy (BEIS) through the Longer Duration Energy Storage Demonstration programme, part of the £1bn Net Zero Innovation Portfolio (NZIP).
The new technology stores excess heat when renewable energy sources - such as solar and wind - are in abundance, so it can be released and used to provide hot water and heating when demand for energy is high or to make up for shortfalls in supply. 
Thermal energy storage has the potential to cut rising energy bills as well as solve one of the main problems with renewable energy sources - their intermittent nature and dependency on weather conditions. A major advantage of the technology being developed is that heat may be stored at far greater densities than for traditional hot water storage, allowing several times more heat to be stored within a given volume. 
The new technology being developed by the Sheffield-led project is set to be trialled in homes in Nottingham to demonstrate its use and determine its impact on reducing energy bills. 
Our focus now is to make this happen. We intend to successfully demonstrate this technology within homes, and to work with our industrial partners on scale up and commercialisation activities to bring it to market as soon as possible. We believe this technology has the potential to play a significant role in maximising usage of renewable sources, and could provide real help to consumers during events such as the current energy crisis.

Dr Rob Barthorpe

Department of Mechanical Engineering, Project Lead
Phase one - research already completed
Phase one of the project, which has already been completed and was funded by BEIS, was a preliminary feasibility study, to support and assess the potential benefits of two different types of advanced thermal energy storage technology, pioneered by the Centre for Renewable Energy Systems Technology (CREST) at Loughborough University.
In this first phase, the project team evaluated both Thermochemical Storage (TCS) and Phase Change Material (PCM) technologies. TCS technologies have the potential to offer inter-day, inter-week or longer storage of thermal energy, while PCM offers inter-day storage. PCM has the additional advantage that heat is delivered at a consistently high temperature, while TCS offers the potential for very long duration storage with zero standing losses. 
The researchers also developed intelligent control systems to enable optimised, flexible storage of heat within homes, providing benefits for both householders and the grid. The team's aim is that the user will need fairly minimal interaction with the units - no more than for a traditional hot water tank.
Phase two - next steps
The latest phase of the research - phase two - is set to continue the development of both technologies and adapt them to become modular thermal energy stores - this means they can be slotted into homes as additional elements alongside the household's existing energy system, as part of a retrofit or within a new build scheme. 
The researchers are developing the control software and hardware and manufacturing prototypes that will be trialled in two homes within the University of Nottingham's Creative Energy Homes (CEH) campus - a seven-house development that provides a living test-site for energy research. 
In addition to the trials in Nottingham, the University of Sheffield, Loughborough University and Mixergy will work together to develop cost and performance optimised thermal storage units and validate their performance both at Sheffield's Laboratory for Verification and Validation (LVV). The LVV tests will be conducted in controlled environmental chambers to enable evaluation of performance at temperature and humidity extremes, ready for manufacture at scale.
Working with industry is a critical element of the project. The university teams will work closely with Mixergy, who bring valuable experience of commercialising innovative technologies developed within academia, proven supply chains and distribution models to reach mainstream markets quickly.
Dr Ren Kang, Head of Research and Development at project partner Mixergy, said: "Project ADSorB will enable Mixergy to diversify its range of energy efficient heating and hot water offerings to support the transition towards a low carbon society. In addition to supporting the technical development, Mixergy will explore the value proposition of these innovative thermal stores by leveraging its extensive customer and installer base. Other potentials, such as utilising the developed "smart" thermal stores to help the electricity grid to absorb more renewable energy, will also be explored through the project." 
Minister for Climate Graham Stuart, added: "Accelerating renewables is key to boosting our energy resilience. Energy storage helps us get the full benefit of these renewables, improving efficiency and helping drive down costs in the long term."
Flagship institutes
The University's four flagship institutes bring together our key strengths to tackle global issues, turning interdisciplinary and translational research into real-world solutions.