Sheffield mechanical engineering student awarded inaugural Santander universities STEMship by Jenson Button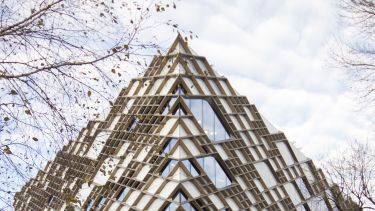 The new initiative aims to support and incentivise more women to embark on a career in the UK engineering industry and responds to the skills shortage challenge currently facing the country's engineering sector.
Atalanta was one of thirty up-and-coming women engineers announced as the first-ever beneficiaries by Santander UK's CEO Nathan Bostock and ambassador Jenson Button at the 2019 Formula Student global competition at Silverstone earlier in July.
The programme aims to break down barriers for women entering the engineering industry by providing aspiring female engineer students with the dedicated tools, resources and opportunities needed to succeed in the industry post university.
---
I feel incredibly honoured to have been chosen as one of the 30 recipients of the STEMship and I'm very grateful to Santander Universities for setting up this programme that encourages and supports female engineers

Atalanta Hinds
---
"I also met some lovely, talented people at the launch event who I'm excited to meet up with at future events."
As a STEMship recipient, Atalanta will embark on a two-year support programme which includes a £1,500 scholarship; an overseas experience at a leading engineering institution; unique networking events with prominent female leaders in the industry; membership to the Women's Engineering Society; and mentorship and internship schemes through Santander's wider networks.
Matt Hutnell, Director of Santander Universities UK commented: "We're thrilled to be launching our unique STEMships to support and inspire the next generation of women engineers from across the UK".
"Having worked closely with Formula Student teams across our partner universities, we recognise the challenges facing female engineering students as they look to embark on careers in the industry. We hope the programme will support them with their career ambitions."
Jenson Button commented: "Getting more women into engineering is vital for the future of the industry so I'm really pleased to be supporting the launch of the Santander Universities STEMships programme. I've worked with amazing female engineers in my career, but we need many more to enter the field if the UK is to continue to be a leader on the world stage."
Ahead of the announcement of the STEMship beneficiaries, Jenson took part in a discussion panel hosted by the face of Formula E, Nicki Shields, on the topic of women in engineering and how to cultivate the next generation of female engineering talent.
Joining Jenson on the panel was Nikki Rimmington, Vice President and Chief Planning Officer for Aston Martin Lagonda, Professor Karen Holford CBE, Deputy Vice-Chancellor at Cardiff University and Clare Sibley, Head of Materials Science at the Williams F1 Team.
Congratulations Atalanta!
A world top-100 university
We're a world top-100 university renowned for the excellence, impact and distinctiveness of our research-led learning and teaching.