That's a wrap! Mechanical Engineering at Pint of Science 2019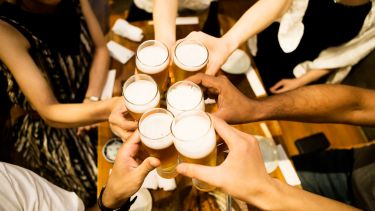 A number of colleagues from the Department of Mechanical Engineering got involved this year, giving talks in pubs across the city and sharing more about their research in a range of mechanical engineering fields.
This included Dr Art Gower who explored detecting structural fractures with sound, and Dr Matt Carré and Professor Roger Lewis who helped pub-goers get to grips with friction.
There were also talks from Dr Candice Majewski who asked what 3D printing has ever done for us, and Professor David Fletcher explored railways and today's city, and what we can learn from the 1800s.
---
I thoroughly enjoyed the opportunity to share our research findings with a new audience in a relaxed and different environment. I'll definitely be returning to Pint of Science again as a member of the audience and hopefully a speaker.

Dr Matt Carré

Department of Mechanical Engineering
---
Students from the Department also got involved in the festival, with PhD student Julian Gosliga discussing whether a computer can judge the similarity of structures. Members of the student-led Sheffield Space Initiative also shared how they're exploring the unknown with rockets, robotics and balloons as part of their projects.
Overall, the festival was a great success with many nights completely sold out and talks well received by those who came to hear more about science and engineering.
"The audience were truly engaged and excited about science," said Dr Art Gower.
"Afterwards I had numerous discussions on the future of robots, sewers, and humanity being confined to ever-larger cities. I highly recommend a pint of science for both the general public and scientists alike."
Professor David Fletcher also had some fantastic feedback following his talk.
"I got quite a string of relevant and engaged listener questions so that was really good. The other talks on the night were on quite different topics to mine, so it made for an interesting evening," he said.
Professor Roger Lewis and Dr Matt Carré also enjoyed the chance to talk about their research in the field of tribology, or friction, with a public audience.
"Pint of Science was a great experience - it was brilliant to meet great people from a range of backgrounds who were interested in our research," said Roger.
Dr Candice Majewski echoed her colleagues' experiences of the festival.
"Pint of Science is a great chance for our team to show a different audience the exciting things we work on, and for them to get up close and personal with our research," she said.
"The range and insightfulness of questions we received during the event really showed how much people had engaged, and how interested they were - it's definitely something I'd recommend to others in the University!"
Roll on Pint of Science 2020!
A world top-100 university
We're a world top-100 university renowned for the excellence, impact and distinctiveness of our research-led learning and teaching.