Tribology students walk in memory of Marcello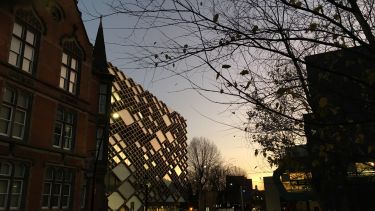 Joined by a number of colleagues from the University of Sheffield, the group took on a variation of the Nine Edges Challenge in the nearby Peak District, walking between Derwent, Stanage, Burbage Upper, Burbage Lower, Froggatt, Curbar, Baslow, Gardoms and Birchens.
Undertaking the walk in five separate groups, each team took between nine and eleven hours to complete the route, which involved stunning Peak District views and a fair few hilly inclines.
Marcello was part of the iT-CDT, an EPSRC Centre for Doctoral Training in Integrated Tribology run in partnership between the University of Sheffield and the University of Leeds.
---
It is a really fitting tribute to an excellent friend and colleague who will be sadly missed.

Matt Harmon
---
A brilliant researcher, Marcello had just returned home to Sardinia to finish writing his thesis when he suffered a heart attack, caused by an undiagnosed congenital heart defect. At just 32 years old, he went into a coma, from which he sadly did not recover.
Matt Harmon, a former PhD student at the University of Sheffield, organised the walk in honour of his friend.
"Marcello's unexpected death hit us hard, as just a few days before we had been wishing him a merry Christmas and also good luck for writing his thesis.
"He was a great friend and colleague, and we wanted to do something to mark that. So we decided to organise a walk to raise money for the British Heart Foundation in his memory, supporting ongoing research into heart disease and conditions.
"The British Heart Foundation has helped to reduce the number of people dying from heart and circulatory disease in the UK, but sadly every day hundreds of people still lose their lives. It's only through public support that the British Heart Foundation can create new treatments and discover new cures."
The team have been delighted with the support they have received for their challenge so far, smashing their original target of £1000.
"We've raised over £2500, with donations coming from over 100 supporters, which has been amazing. This will make such a difference as just £24 could pay for two hours of research by an early career scientist.
"It is a really fitting tribute to an excellent friend and colleague who will be sadly missed."
A global reputation
Sheffield is a research university with a global reputation for excellence. We're a member of the Russell Group: one of the 24 leading UK universities for research and teaching.