Dr Christophe Pinna
Department of Mechanical Engineering
Senior Lecturer in Mechanical Engineering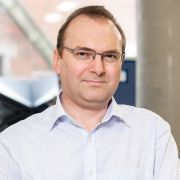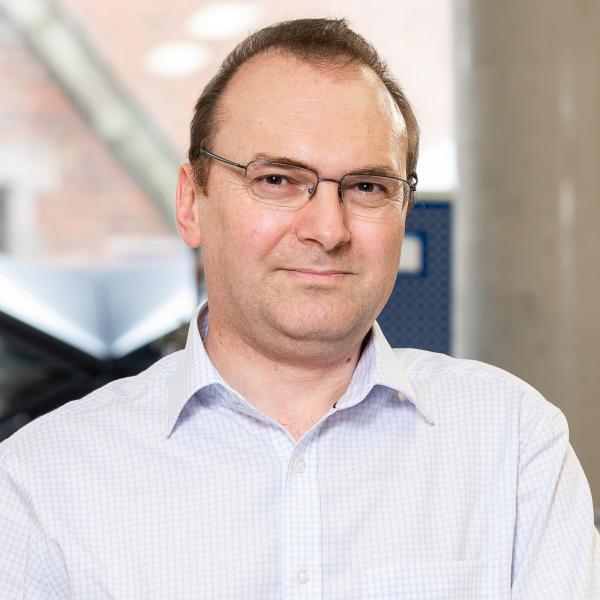 c.pinna@sheffield.ac.uk
+44 114 222 7831
Sir Frederick Mappin Building
Full contact details
Dr Christophe Pinna
Department of Mechanical Engineering
Sir Frederick Mappin Building
Mappin Street
Sheffield
S1 3JD

Profile

Christophe Pinna graduated with a PhD from Ecole Polytechnique in France in 1997 in the field of mechanics of materials applied to fatigue and fracture. He joined the Department in 1998 as a post-doctoral Research Associate and started to work on the thermo-mechanical processing of metals.

He became Research Fellow the same year and Lecturer in 2000. He was promoted to Senior Lecturer in 2008. He is an EPSRC Full College Member and a Member of the Advanced Materials and Structures Division Committee (AMSTAC) of the Institute of Mechanical Engineers.
Research interests

Dr Pinna's research covers the areas of mechanics of materials, fatigue, fracture, manufacturing process modelling and includes both experimental and computational mechanics. Projects are funded through grants from EPSRC, the European Union and industry.

Applications include automotive advanced high strength steels, thermo-mechanical processing of metals  (e.g. forging, rolling, friction stir welding), aerospace and automotive fibre composites and machining. 

The work involves multi-scale experiments at both room and elevated temperatures using conventional as well as small-scale mechanical testing (e.g. tensile and bending inside a Scanning Electron Microscope, tensile and compression inside an X-ray micro-Computed Tomography microscope – Zeiss Xradia 620 Versa) and Full-field strain measurement techniques (e.g Digital Volume Correlation, optical 3D Digital Image Correlation, Scanning Electron Microscopy-based Digital Image Correlation and microgrids generated through Electron-Beam Lithography).

Modelling techniques include finite element models, micro-scale crystal plasticity models, cellular automata and phase-field models for simulations of microstructural deformation and evolution.
Publications

Books

Journal articles

Chapters

Conference proceedings papers
Research group

Current PhD students 

Y.A. Lizama-Camara, Fatigue of short fibre composites
A. Alsharif, Multi-scale modelling of Advanced High Strength Steels
R. Dowding, Bendability of high strength hot rolled steels
V.A. Perez Cervantes, Fatigue of short fibre composites 
A. Cooper, Machining-induced residual stress modelling
S.M. Dabrowski, Cutting tools wear modelling
G. Osborne, Manufacturing-induced residual stress modelling
Z. Chen, Effect of manufacturing process on mechanical response of carbon-fibre composites

Graduated PhD students 

R. Bilkhu, Machining strategies for distortion control during high speed machining, 2020
N.I. Rohaizat, Fracture of automotive high strength steels, 2019
N. Duboust, Edge trimming of CFRP – surface roughness measurement and prediction, 2019
G.J. Adeyemi, New kind of sensors for rolling applications, 2018
A. Cartledge, Fatigue of self-healing composites, 2018
K. Giasin, Drilling GLARE fibre metal laminates, 2017
T. Mbwadzawo, Investigating and improving fracture resistance of elastomer o-rings and spring seals exposed to rapid gas decompression, 2016
A. Ratner, Hybrid steel wire strands with carbon fibre reinforced plastics, 2016
K. Alharbi, Damage Investigation in Dual-Phase 1000 Steel and behaviour prediction using microstructure based modelling, 2016
M.F. Kiu, Hot deformation and damage of free cutting steel, 2015
P. Efthymiadis, Multiscale experimentation and modelling of fatigue crack development in aluminium alloy 2024, 2015
Y. Shi, Modelling low velocity impact behaviour of composite laminates used in aerospace, 2014
H. Ghadbeigi, Metal cutting mechanics: investigation and simulation of deformation and damage mechanisms, 2010
A. Salas-Zamarripa, Fatigue behaviour of an aluminium alloy used in Turbocharger compressor wheels, 2008
C. Boldetti, High resolution strain measurements of Intra-granular deformation in structural materials at high temperature, 2006
Grants

EPSRC – An X-ray Micro-Computed Tomography Facility with in-situ/in operando testing, 2019 – 2022, £ 1175k (CI)
EU – H2020 – Fracture across Scales and Materials, Processes and Disciplines (FRAMED), 2017-2021, £142k (CI)
EPSRC - Cradle to grave Life cycle prediction of automotive materials and systems in service: Impact of ageing on performance, 2014-2018, £ 1m (CI)
KTP/TSB with Arnold Magnetic Technologies Ltd – 2012-2014, £135k (PI)
M2i (Materials innovation institute – The Netherlands) / Tata Steel – Advanced High Strength Steels, 2010-2013, £377k (PI)
EPSRC, A new framework for hybrid through-process modelling, process simulation and optimisation in the metals industry, 2008-2012, £4.6m (CI)
EPSRC platform grant, Modern metals processing: transfer of knowledge and core skills to new and emerging technologies, 2007-2012, £880k (CI)
EU RFCS grant, Roll-Gap Sensors, 2009-2012, £115k (CI)
BAE Systems Marine, Plastic strain analysis, 2009-2011, £211k (CI)
EU Framework 6, COMPACT - A concurrent approach to manufacturing induced part distortion in aerospace components, 2005-2009, £279k (CI)
EPSRC, Thermomechanical processing: metallurgy, mechanics and modelling, 2002-2007, £3.9m (CI)
EPSRC first grant, High resolution strain measurements of intra-granular deformation in structural materials at high temperatures, 2003-2006, £122k (PI)
Teaching activities

MEC445 Industrial Applications of Finite Element Modelling
MEC313 Finite Element Techniques