The opportunities the university offered me, truly exceeded my expectations and prepared me for an exciting future.

George
MEng Mechanical Engineering
spent his Industrial Placement Year at Williams Racing
2022
Inspired by Lego, George developed an interest in engineering as a child, and knew that he had to follow a mechanical engineering career.
Why did you choose your course?
My passion for engineering started while playing with LEGO and was later reinforced with the FIRST® robotics competitions during high school. At the time, I felt that I was just playing a game doing something that I loved; using my hands and mind to solve problems and challenges quicker and better than others. In fact, I was learning engineering principles using trial and error. I knew then that I had to follow a mechanical Engineering career.
What did you enjoy about it?
I really enjoyed all the design modules that we had. Building on the knowledge from the more technical courses, we were given challenges and often had a competition between our year. Through that gamification we were pushed to learn more and try hard to find innovation.
Were you part of any student societies or project groups? 
One of my favourite experiences throughout the degree was the participation in many extracurricular activities. I have enhanced so much my learning outcome gaining practical knowledge that can't be taught in any module. As a highlight, I was part of Sheffield Formula Racing team since my first year, and now I am leading the entire team. I have gained knowledge from practical design to softer skills such as communication and leadership.
Tell us about your industrial placement year at Williams Racing
As a mechanical design engineer, I was making parts and systems to enhance performance, solve problems, be easy to manufacture, cost-effective, safe to use, and last but not least be aesthetically pleasant (particularly for pit equipment). My placement solidified my love for mechanical design and informed my focus when applying for graduate roles.
And you final year project?
As part of my dissertation, I developed an efficient and reliable heavy-duty drone, that could be used in various high-end applications including professional aerial cinematography, package transportation and first aid response.
I choose this project following my passion to expand my knowledge of pure mechanical engineering, to electronics and control, hoping that I could gain experience in the field of robotics while trying to develop a system that is comparable to or better than the existing products on the market. 
What made you choose Sheffield over other universities?
Sheffield offered a great combination of a very good university with amazing facilities, in a friendly and green city.
What do you think about Sheffield as a city?
Sheffield is great! It feels like a small city in terms of the short walking distances and the friendly vibe, while having everything that you need. It is a very green city with Peak District just on its outskirts. Be prepared for a few hills though :)
What would you say to someone considering studying Mechanical Engineering at Sheffield?
The university will provide you with all the tools and knowledge that you will need in your careers, but it will be up to you to seize all those opportunities and maximise your learning outcome.
How would you sum up your time in Sheffield, studying Mechanical Engineering?
I have had a marvellous experience studying mechanical engineering at the University of Sheffield. All the opportunities that the university offered me have truly exceeded my expectations and have prepared me for an exciting future.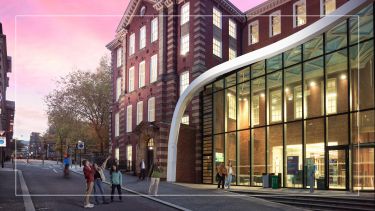 Visit us
Discover what sets Sheffield apart at our undergraduate open days on the Saturday 21 October or Saturday 18 November.