Catalan is a Romance language spoken in Northern Spain, Southern France, Andorra, the Balearic Islands, and in the city of Alguer (Alghero) on Sardinia.

Browse our Catalan modules below and find the right level for you.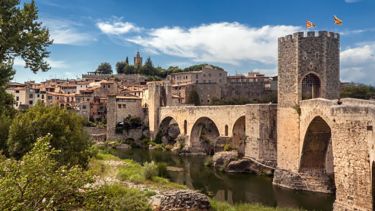 What do our students think about Catalan Studies at The University of Sheffield? Why do they recommend studying Catalan with us? Sam Andrew, graduated in July 2022, answered these questions.
Why studying Catalan is a great opportunity? Listen to these students and discover #whyCatalan is a great choice. If you want the languages you speak to make you stand out, then Catalan is for you!
These general language modules are open to all students (for credits or not), members of staff, and members of the public.
Available on a semester basis (11-12 weeks), they aim to develop language competence and cultural knowledge for professional and recreational purposes through small group weekly classes and guided independent learning.
If you are unsure about your level, let us know when applying and we will invite you for a short placement interview to understand your previous experience and current needs.
Beginner

Intermediate

Advanced

Higher Advanced +
---
These modules are for undergraduate students undertaking a languages degree with the School of Languages and Cultures.
They are intended to build your proficiency in Catalan over the years up to a near-native speaker level, taking into account any previous experience of the language you may have, whilst supporting your study of Catalan culture in other modules. 
Please visit the Catalan Studies website for information on available degrees and culture-related modules.
Year 1

Ab initio pathway:

Year 2

Ab initio pathway:

Year 4

Ab initio pathway without a Year Abroad:

Ab initio pathway with a Year Abroad:
| | |
| --- | --- |
| | Students of the University of Sheffield and members of the public can take examinations at the MLTC leading to the award of official certificates in Catalan language delivered by the Institut Ramon Llull (IRL). |
The certificates, aligned on the Common European Framework of Reference for Languages and recognized internationally, are a useful means of demonstrating one's linguistic competence in Catalan, both spoken and written.
Examination sessions are held in May-June, usually on a Saturday, and available in up to 5 levels depending on demand. For more information on these examinations, including how to register, please visit the IRL website. You can also contact the MLTC at mltc@sheffield.ac.uk for additional support.
Although MLTC Catalan courses include a preparation for this certification scheme, please note that registration to the exams is independent from registration on an MLTC course and incurs a fee payable directly to IRL.