Our purpose-built, state-of-the-art facility for instrumental lessons, practice, small-scale rehearsals and sound recording.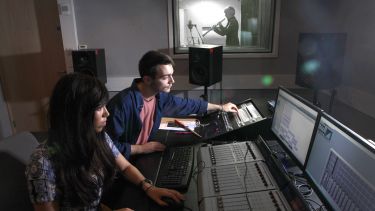 We are a certified Steinberg Training Centre. 
Steinberg and the University of Sheffield Sound Studios are uniquely positioned to deliver training in the creative use of software. Music Technology now underpins the vast majority of a student's education, from applied use to accompany an analytical essay, to full scores, music for film and music production using Cubase. 
Our modular programme enables students to use technology as and how they please. In all cases, we rely upon Steinberg to offer superb software andwe pride ourselves on delivering the best training in its use. 
There are 12 practice rooms available within the Soundhouse are available to book online 8:30am-11pm, seven days a week. They offer a range of equipment and instruments for students to use.
Each music student can book 2 hours in a practice room per day (4 hours for MA Performance students) which can be booked on the department's online booking system.
Practice Rooms
The Soundhouse has a total of 10 practice rooms, 3 with baby grand pianos and 7 rooms with upright pianos.
Band Room
A rehearsal space perfect for bands, including an electric drum kit, keyboard and several bass and guitar amps. 
Percussion Room
A large room for first instrument percussionists.
Music Store
A secure space for students to store their instruments, located on the second floor of the Soundhouse. 
The University of Sheffield Sound Studios (USSS)
USSS offers teaching and research opportunities at the cutting edge of Music Technology. Our suite of studios feature high specification acoustic treatment and are fitted with advance technology for sonic arts. In addition, USSS maintains an extensive range of professional portable equipment for recording or live performance.
 Studio 1
Studio 1 is equipped with the capability to record up to 8 channels simultaneously from Studio 2 (see below), into a Scarlett OctoPre microphone preamp, with stereo monitoring on ATC loudspeakers and a Mackie control desk.
Studio 2 - Live Room
Studio 2 is an acoustically treated live room connected directly to Studio 1 and contains an upright piano as well as a headphone amp for talkback and live monitoring from Studio 1. It also has audio and video ties to Studio 3 and a small Foley pit for sound effects and dialogue replacement.
Studio 3
Studio 3 is specially designed for ambisonic playback, surround composition and film scoring, armed with eight Genelec 8030a speakers for precise surround-sound monitoring.
Studio 4
Studio 4 is a perfect space for composing and mixing in stereo, with two Genelec 8030A speakers and a suite of cutting edge DAWs and music production/processing software.
Studio 5 - Live Room
This acoustically treated live room is connected to Studio 6 and contains a drum kit as well a range of guitar and bass amplifiers, and a headphone amp for talkback and live monitoring from Studio 6.
Studio 6
This studio is fantastic for any purpose, with 16 channel recording from Studio 5 through Scarlett OctoPre preamps, Mackie controllers, and the ability to monitor in up to 9.1 surround sound through pristine Genelec 1032A, 1031A and 7070A (LFE) loudspeakers.
All studio computers are equipped with Cubase, Nuendo & Reaper, as well as many complex processing tools such as USSS Tools, GranuLab, GRM Tools & more. We have a fantastic range of microphones available to record with for a range of applications.
View the full specification and projects related to University of Sheffield Sound Studios on the webpage below:
USSS Webpages
---
Our campus and how we use it: We timetable teaching across the whole of our campus, the details of which can be found on our campus map (http://ssid.sheffield.ac.uk/campus-map). Teaching may take place in a student's home department, but may also be timetabled to take place within other departments or central teaching space.
A world-class university – a unique student experience
Sheffield is a research university with a global reputation for excellence. We're a member of the Russell Group: one of the 24 leading UK universities for research and teaching.