Our student-led volunteering organisation, Music in the City, creates fantastic opportunities leading music projects and workshops in local schools. Music in the City work closely with The Sheffield Music Hub, Music for Youth, create sheffield and TUOS Arts and Humanities outreach team.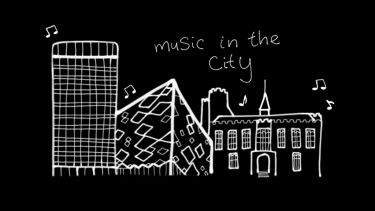 Off
Volunteering with MinC has been one of the best things I've done at university. Meeting people from all across the city while doing something I love and making a real difference is so rewarding and has made a big impact on my future career. I've grown in confidence, learnt how to organise large teams of people, volunteered alongside people with different experience and skills, and watched as children get to see for the first time that they could be a "musician" been a highlight of my last three years and I'm now moving on to do more of it as a teacher!

Florence Allwood

Student volunteer
Musical Storytelling
This is a project that we have done in several schools and is specifically aimed at early years age children. We usually bring a range of instruments (and volunteers!) into the schools and play a couple of short pieces, tell a story with musical sound effects, and finish with some musical games (often with a parachute!)
Care home sessions
We have a well-established relationship with a lovely care home in the Peak District where we run regular music sessions involving solos, ensemble performances, and group singing. The residents are always a very friendly audience, so this is a great chance for volunteers to try out recital pieces  before performing them in an exam or concert. This year we are hoping to run similar sessions at other care homes and community groups. 
---
Sessions for children with additional needs
We are currently running a few sessions a year in a local school for children with a wide variety of disabilities and special needs. This is a hugely eye-opening and valuable experience for volunteers hoping to work in music therapy or education in the future, and the staff and children love the sessions, so we are keen to expand these too!  
---
Performances
We've done a few performances where we go into an assembly and play some well-known classical pieces to the children. We usually use the current BBC Ten Pieces list to choose some pieces to play, but we have also done this on a theme before (e.g. Peter and the Wolf). There have been a whole range of instruments involved, from saxophone and guitar to violin and voice!
Music in the City Youtube Channel 
---
Graphic Scores 
We introduced this project this last year. It's aimed at KS2 children and is a bit more like a lesson, teaching them about the different ways of writing music without using traditional Western notation, then getting them to come up with their own scores. At the end, our volunteers can play their scores back to them on our instruments, or the children can create their own versions using things like milk bottles, plastic cups, or any instruments in the classroom that the children can play. 
Being a Music in the City volunteer provides valuable work experience for those considering a career in music education, community music or music therapy. I have had the opportunity to learn such a variety of skills in terms of music leadership, and work with many industry professionals, whilst having such an enjoyable time as a MinC volunteer!

Katie Muller 

Student volunteer
Collaborations  
88 Pianists 
In an exciting collaboration with the University of Cambridge and the Sheffield University engineering department, our volunteers for 2018-19 have been assisting children in schools in and around Sheffield to design 5-metre-long, mechanical "finger extensions" in order to enable 88 children to play the same piano at the same time, breaking the Guinness world record! 
Sheffield Music Hub Singing Festivals
Every term, our volunteers support classroom teachers in helping children learn the songs for the Sheffield Music Hub's singing festivals, which are large-scale events in exciting venues around the city, such as the cathedral or Firth Hall. We learn all the songs and actions, go into each school several times over the term, and assist on the day with the final performance. Our volunteers gain a lot of valuable teaching experience here as we are sometimes asked to teach the songs to 60 or 70 children at once! 
Music for Youth
In the past, MinC has run the Regional Festival for this well-known national organisation. This is our biggest event of the year, requiring a huge amount of planning and people management, and each year a different experienced volunteer takes on the organisation, providing real-life arts administration experience. In 2019, there were 420 children and young people involved in the event, with an audience of over 600! The participants come from all areas of Yorkshire and the surrounding area to perform in front of expert mentors and receive feedback, before potentially going on to perform nationally, and it is always a real highlight of our year at MinC. 
---
Bringing back to life songs from World War 1
Last year, student Emily Overend worked with two local schools on her third year special project. The children learnt songs from World War 1 and performed them at a commemorative concert in Firth Hall.
Our volunteers are regularly contacted by schools and community groups asking for one-off sessions. Our volunteers love a challenge, and we are always up for creating new projects to suit a variety of needs and situations.
If you are interested in collaborating with the Department of Music, please contact: musicinthecity@sheffield.ac.uk
Facebook: @musicinthecitysheffield
Twitter: @ MinC_Sheffield
Instagram: minc_sheffield
You tube channel: Music in the City
View the Faculty of Arts and Humanities outreach work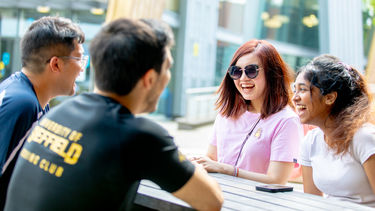 International Merit Scholarships
We offer a generous package of financial support for international students including 75 undergraduate scholarships worth £10,000 towards the annual tuition fee and 125 postgraduate taught scholarships worth £5,000 towards the tuition fee. Applications are now open for existing offer holders.