Anniversary event welcomes one of the UK's most loved pianists to Sheffield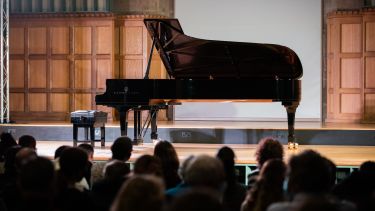 Celebrating our pianos 
Yes...difficult to believe – but it's been one whole year since the University of Sheffield launched it's prestigious accreditation status with the world renowned piano makers, Steinway and Sons.
The All-Steinway accreditation serves to demonstrate the University of Sheffield's high standing in arts education and gives students across the University access to world-class pianos throughout their study.
The quality of the pianos are excellent. It's possible to distinguish between playing loud and soft easily. I'm delighted I can use these high-quality instruments for my PhD viva performance. 

Tanmoy Rahman

PhD in Musicology 
Anniversary Concert 
To mark the University's first anniversary as a Steinway Accredited Institution, the Department of Music will be welcoming one of the UK's most loved pianists to a special Sheffield celebration event.
On Thursday 17th November, University of Sheffield Concerts welcomes Martin Roscoe to mark the one year anniversary of the Steinway launch event that took place in November 2021, with a solo recital in Firth Hall. 
Widely acknowledged for his versatility at the keyboard and boasting an extraordinary career spanning over five decades, Martin will perform a vibrant programme of pieces from some of the world's most famous composers. The evening promises to be a unique event for the city.
The concert is open to all and a special welcome goes out to first-time attenders at live performances of classical music. 
To accompany the performance, students from the Department of Music and pianists from secondary schools in the local area will get to experience a performance masterclass on Friday 18th November.
This high level of musical training will help to prepare students for the concert platform and teach them how to master the art of extracting the best sound out of a Steinway piano.
World-class Performances 
The pinnacle of the accreditation status was the receipt of a Steinway Model D Grand Piano. This has consolidated Firth Hall's position as a high-quality performance venue, able to welcome world-class artists to the city region for both concerts and masterclasses.
The prestigious 'Model D' Steinway Piano is regarded as the peak of concert grand instruments and essential for anyone who demands the highest level of musical expression.
Already this year, the University has been fortunate to welcome a number of highly-regarded musicians who have performed in Firth Hall, including Dame Imogen Cooper, Ben Frith, Peter Hill, Rakhi Singh, Manchester Camerata and the Zoe Rahman Trio. 
Events at the University
Browse upcoming public lectures, exhibitions, family events, concerts, shows and festivals across the University.